This article was last updated on August 15, 2022
Cronos is one of the most important crypto networks in the industry. As such, a lot of investors have taken interest in it. In the current state of the crypto market, CRO's price's been very low, compared to its previous performance. This allows us to speculate and try to foresee the price of Cronos in the upcoming years, thus making a valuable price prediction.
This is exactly what we will be covering in this article, including more information about the Cronos ecosystem and network.
If you are new to the crypto space, we highly suggest checking out our dedicated article for crypto beginners. Once you read it, you will have a great foundation and an easier time navigating through the crypt space.
Over the past week, the price of Cronos (CRO) remained around $0.15. The circulation supply is 25 billion tokens. The market cap went up to $3.7 billion.
What Is Cronos?
Cronos (CRO) is the native cryptocurrency of the Crypto.com cryptocurrency exchange. It is quite popular nowadays, so much so that it never leaves the top #50 cryptocurrencies by market cap.
The Cronos blockchain is one of the products, part of Crypto.com's incentive to rev up the global adoption rate of virtual currencies. This includes the idea of giving full control to a person regarding their own finances, as well as safeguarding their data and identity.
CRO has a lot of utility within the Crypto.com exchange, while also being the primary power source. For example, you can easily stake your CRO with the click of a button on the Crypto.com payment application. This results in a potential 10-12% annual return.
The token is also useful to reduce the transaction fees you might have during trading.
A unique feature within the same application is the fact that you can receive up to 20% cashback by paying for services within the CRO network. Additionally, there is a 10% cashback for purchasing gift cards and making peer-to-peer (P2P) transactions.
Will CRO Reach $1?
Cronos is a project that comes with a lot of utility. This is what many investors love about it. Owners are optimistic about the development of the network, once the market stabilizes. That's why so many believe the price will not only reach $1 but go beyond and reach its past glory.
However, let's think about it for a moment. The current price of Cronos is around $0.10, which is far away from its previous all-time high of $0.90. This means it will need a 10x increase in order to reach a price evaluation of $1. With a current market cap of $2.8 billion, this will result in a new market cap of more than $28 billion.
This is perfectly doable once the market stabilizes and crypto sees more adoption. However, this will not happen anytime soon. It will probably happen in the distant future (more towards the end of the decade).
First, we need to see market stabilization. This will happen after the military conflicts in Europe get resolved. Until then, the market will proceed to be chaotic and bearish. So when is Cronos going to reach $1? It will take at least 4 more years, or even 5 if we are being conservative.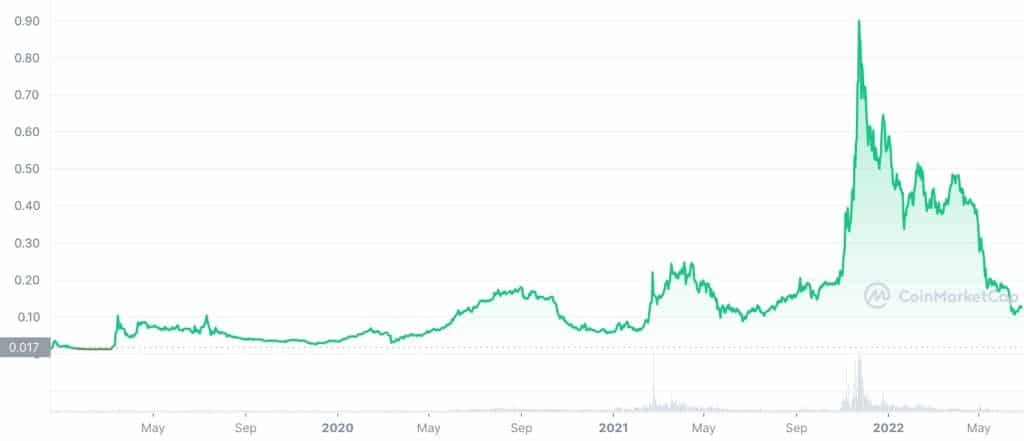 CRO Price Prediction For 2022 – 2030
Cronos's future price is difficult to predict, as it is reliant on a number of factors, including the performance of the Cronos network, global economic conditions, and the price of other cryptocurrencies. However, if Cronos continues to grow as a network at its current rate, it is possible that the price evaluation for CRO could easily go back to its past prime and probably around the price of $0.30 by the end of 2022 or 2023.
This would be a significant increase from its current price of around $0.10, but would still be way below its all-time high of $0.90, reached in September 2021. While Cronos's future price is impossible to predict with certainty, we are eager to share with you our analytical forecast.
Keep in mind that these are mainly speculations, although supported by facts and other somewhat solid factors. With that being said, let's head on to the interesting part.
2022 Cronos Price Prediction
Some of the financial industry's top names have lent their weight to Cronos's price prognosis. The number of collaborations and events with the cryptocurrency sector demonstrates that many people are confident in cryptocurrency.
According to that and to Cronos's performance over the past year, it may achieve a tremendous boost by year's end, unlike other significant coins like Bitcoin and ETH, and go through the $0.30 of cents yet again, which will get it closer to its previous heights.
Of course, there's the scenario that we experience further world conflicts that can affect the crypto market. In that case, we can expect CRO to drop in price. No one can say for sure how low it may go, but we can easily see it dropping to around $0.03-$0.04.
2023 Cronos Price Prediction
Many analysts have made Cronos price predictions for 2023, and the general consensus is that the price of Cronos will continue to rise. This is based on a number of factors, including the increasing use of Cronos's technology, the growing popularity of crypto, and the overall positive outlook for the global economy.
While it is impossible to say exactly what the price of Cronos will be in 2023, most experts agree that it has the potential to reach new heights.
More realistically, we can expect the price of Cronos to reach $0.41-$0.45 by the end of 2023.
2024 Cronos Price Prediction
If the growth for Cronos continues, we can easily see it getting massive adoption. Our price prediction for 2024 is as conservative as possible, in order to not misguide you.
We believe that by the end of 2024, the price of Cronos will reach at least $0.50. If we let ourselves be a bit more speculative, we'd raise it to $0.60, bringing it closer and closer to its previous peak.
2025 Cronos Price Prediction
According to many Cronos enthusiasts and their price predictions, CRO prices may rise dramatically in the trading range between $0.53 and $0.61.
However, the most realistic expectation is for a midpoint of these price levels. With widespread adoption, CRO price prediction as a cheap and convenient digital asset might become a reality.
For this scenario, we must also consider that the Cronos network can significantly expand and develop. In that case, prices may even go as high as $0.70, but that is quite ambitious.
As for a worse scenario, there are many things we cannot predict. Such is any global military, environmental, pandemic, financial, and other similar issues.
But let's explore what we have at hand. If yet another Cronos competitor arises, things can definitely go south for Cronos. Another thing that can happen is if there's any change in the network's operation. This can include a change of CEO, developers, other team members, etc. If that happens, we can see the price of Cronos dropping by 50-70%, meaning it will go for about $0.25-$0.65.
2026 Cronos Price Prediction
Keeping our conservative approach, we won't try to make ridiculous price predictions for Cronos. Although many believe that by 2026 the price of CRO will be at least $1, we'd give a different value.
2026 is actually not too far away, but in terms of crypto, it is. We believe that Cronos will be evaluated at anywhere between $0.80 and $0.85.
2027 Cronos Price Prediction
As the years go by and Cronos continues its expansion and proves its utility we can easily see it going for as much as $1. However, if we are being more realistic, the price might remain moving sideways, as that is a hefty growth.
By that, we mean that CRO will be evaluated at around $0.90 – $0.95, surpassing its previous all-time high. We think the lower spectrum of our price prediction will be more accurate than the higher. Yet, as we all know, the crypto market is quite unpredictable, so we will have to wait and see.
2028 Cronos Price Prediction
In 2028, if Cronos comes out with new projects and experiences further adoption, we can see it potentially going out from the zeroes and reaching a price of $1 – $1.21. However, this is mostly optimistic.
On the lower end, we can see CRO being worth around $0.92, while on average remaining at around $0.98.
2029 Cronos Price Prediction
For the last year of the decade, we believe that cryptocurrencies will have settled in for the most part. By that, we mean that tokens will be nothing out of the ordinary anymore. Not only crypto but all sorts of crypto projects too – NFTs, dApps, etc.
As such, we think Cronos will be moving at around $1.43 to $1.49 easily, although we can also see it reaching the $1.50 mark.
2030 Cronos Price Prediction
Crypto price predictions are always difficult, as the cryptocurrency market is highly volatile. Even more so when we are talking about 8 years into the future.
Some experts have forecast that Cronos's price could reach up to $2 by 2030. This would be a significant increase from its current price of around $0.10. However, it is important to remember that Cronos is growing, and so is its adoption rate, utility, and potential.
In addition, the current global economic situation could also lead to an increase in the price of Cronos, as more investors look to cryptocurrencies as a safe haven for their money. Only time will tell whether this price forecast comes true, but Cronos certainly seems to have a bright future ahead.
That is unless we see global frames in which cryptocurrencies have to operate in the future. What we mean here is that countries could start incorporating restrictions. There already are some countries like Qatar, China, Turkey, etc.
If that happens, we can see many of the tokens we all love and know drop down by a lot. This might even mean the end of cryptocurrencies as we know them.
For Cronos, if that happens, we can easily make a price forecast that CRO can drop in value by 90%. To be more specific, this might mean a price evaluation of less than $0.15. On a brighter note, this is highly unlikely, even though not impossible.
Our Opinion On Cronos (CRO)
Given the Cronos price today, we can make lots of speculations. However, when doing a price prediction or looking at one, you must stay completely aware that most of the time it is completely off.
Although we kept a conservative approach with our average forecast price, you should still take this prognosis with a grain of salt.
Cronos is certainly a great project with huge potential, which makes us believe that it will survive throughout the years. Not only that, but if we see it live through, it is most likely going to be a project that the majority of blockchain networks adopt due to Cronos' utility. Overall, although we believe Cronos will certainly be bullish and we believe in our speculations, we can never be certain.
How To Buy Cronos (CRO)
Thanks to the token's massive success and popularity, Cronos is listed on most major crypto exchanges and online trading platforms. Investing in crypto is not too complex, and you won't have to go through a lot of unnecessary steps. Below we have provided an in-depth outline of the general steps you will need to take to invest in Cronos.
Choose A Crypto Exchange Platform
The first thing you will need to do is choose a crypto exchange platform that carries Cronos. Luckily, the token is quite popular and is present on most major platforms like eToro, Binance, Coinbase, Bitstamp, and Kraken.
Create An Account
After you have chosen your trading platform, you will need to create an account if you don't already have one. This process is usually pretty straightforward and usually takes only a couple of minutes. However, you will need to provide personal information such as full name, date of birth, email address, etc.
Verify Your Account
Once you have set up your account, you will also need to verify your identity. This process is a bit lengthier and requires some additional information. Generally, the platform will require that you provide copies of your photo ID, proof of address, and other documents. This is in accordance with Know Your Customer (KYC) laws which aim to prevent fraud.
Deposit Fiat Currency
Next, you will need to deposit funds into your account. You will use these to purchase CRO coins. The amount you can deposit will depend on the crypto exchange platform you are using and the number of coins you wish to purchase. Each platform will support different payment methods and have varying minimum requirements.
Buy CRO
Once you have supplied your account with sufficient funds, you can purchase your CRO coins. Head over to the markets or crypto exchange section of your platform and search for the CRO symbol. Once you have found Cronos, place an order for as many tokens as you would like to buy. Alternatively, you can input how much fiat currency you would like to spend, and the system will show you how many tokens that translates to.
(Optional) Move Your Cronos Tokens To An External Wallet
Once you have purchased your Cronos, you have the option to move it to an external third-party wallet. While you can easily store your cryptos in your exchange profile, a dedicated wallet is much more secure. Most platforms allow you to easily transfer your cryptos by linking a dedicated wallet to your exchange account. Alternatively, you can do it manually by transferring them to your wallet's public address.
Conclusion
Taking all of the above into consideration, it would appear that CRO is a very promising investment. The price predictions for CRO are exceptionally positive, and the coin does have a lot of potential.
Of course, as with any investment, there is no guarantee that CRO will reach the predicted price points. However, if you are looking to invest in cryptocurrency, CRO is definitely worth considering.
There aren't too many unique projects that have been coming out these days. Most are looking to give solutions to problems that do not exist. Others are looking to create problems in order to give solutions to irrelevant sectors of the crypto market.
That is definitely not the case with Cronos. The network will definitely keep growing and expanding its adoption. Even if the general public does not take better notice of Cronos anytime soon, huge companies are already working hand in hand with Cronos to better their operations.
We will keep an eye on the development of Cronos and how it performs. Its potential in tandem with our price predictions makes us keen to see what lies in the future for Cronos.
Read Next: Can Cardano Hit $100?