This article was last updated on November 7, 2022
If you want to add the USDC token or any other ERC-20 token to your MetaMask wallet, you will need to copy & paste its address in the designated field. In this guide, we will be showing you how to do exactly that.
Adding the USDC token is very easy to do, so even non-tech-savvy people will have no problem following the instructions.
Once you complete the process, you will have an easier time managing your USDC tokens as they will be securely stored in your MetaMask wallet.
In this article, we will also give you more information about USDC and MetaMask.
Interesting Read: "Add Cronos To MetaMask"
Without wasting any more time, let's get right into it!
This is the best possible method at the moment. If there are any updates a new, faster method comes out, we will immediately update this article.
Benefits of Adding USDC Token to MetaMask
Adding USDC to your MetaMask account makes it easy to manage your USDC tokens.
Not only that, but after you connect your MetaMask wallet to a swap DeFi website, for example, you will be able to swap USDC for any other token.
Additionally, you will be able to use USDC on any DeFi website that supports the token.
How to Add USDC Token to MetaMask – Browser/Desktop
There are only a couple of steps to follow before you add USDC to your MetaMask Wallet. It will take you no more than 5 minutes to complete the task.
Step 1: Log In/Download MetaMask
First of all, you will need to log in to your MetaMask account.
If you do not have one already, we suggest following our easy guide. The process of creating an account takes no more than 2 minutes.
Once you log in or create an account, you will see the MetaMask icon in the top-right corner of your browser.
Step 2: Open CoinMarketCap & Search "USDC"
The second step will be to open CoinMarketCap and search for USDC. See the image below for reference.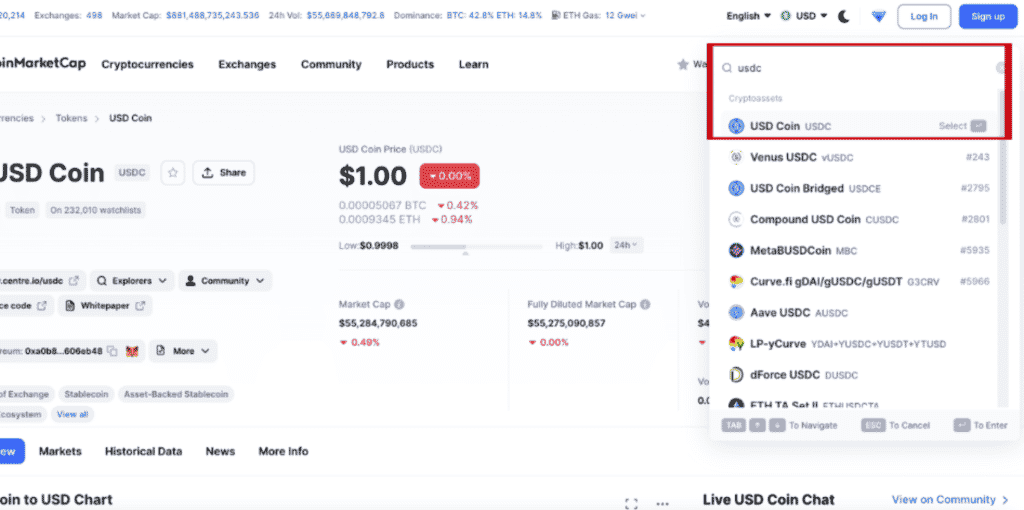 You will need to click on USDC, which will open a new section.
Proceed with the next step once you open the USDC page.
Step 3: Click the MetaMask Icon
The USDC section will look like this: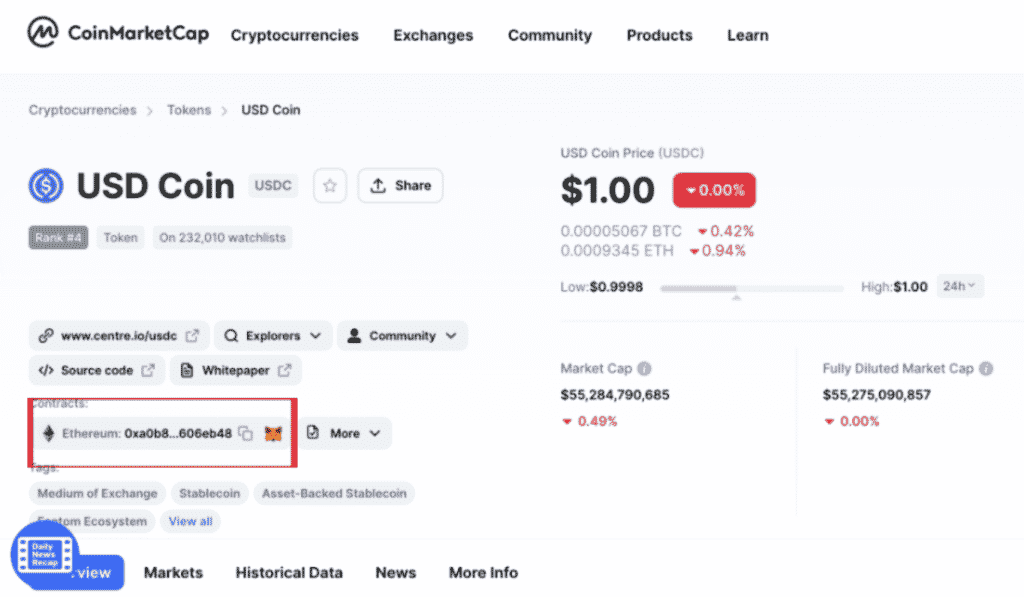 You will see the "Contracts" section, under which you will see USDC's address. It is the long string of symbols you see there.
Here, you need to click the MetaMask icon, which will open a pop-up in your extension. See the image below for reference.
Step 4: Confirm the Import
This is what the pop-up in the extension looks like: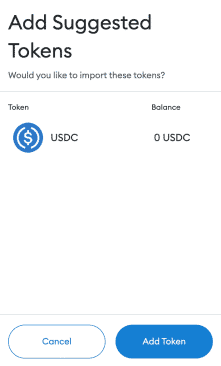 Here, you simply need to click on "Add Token".
Step 5: Make Sure USDC is in MetaMask
Once you confirm the import of the token, make sure it is added. When you open the extension, it should look a little something like this: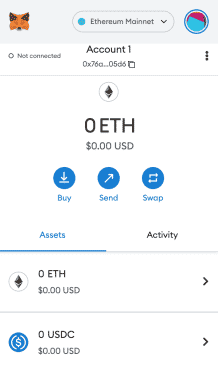 You will see USDC right below ETH or any other tokens you've added previously.
How To Add USDC Token to MetaMask – Mobile
In this section, we will focus on how to add the USDC token to your MetaMask application on your iOS/Android device.
We would say it is actually easier to do it this way, than on a browser/desktop.
Step 1: Open MetaMask App
First, you need to open your MetaMask application on your iOS/Android device.
If you haven't downloaded the application, you can do so through the App Store or Google Play store.
Once MetaMask is installed, you can log in and proceed with the next step.
Step 2: Click "Import Tokens"
Once you launch your MetaMask application, you must click on the "Import Tokens" button at the bottom of the screen.
See the image below for reference:
Once you click on that, you will be taken to a new window, where you need to follow the next step.
Step 3: Search USDC
As we said previously, you will see a new window, where a search bar will be available.
Once you see the search bar, type in USDC and you should see a little something like this: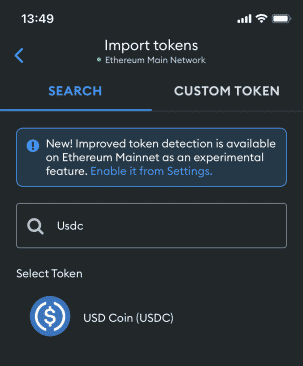 Step 4: Click USDC
Once you mark (tap on) USDC, you will see the Import button available at the bottom (scroll down).
See the image below for reference: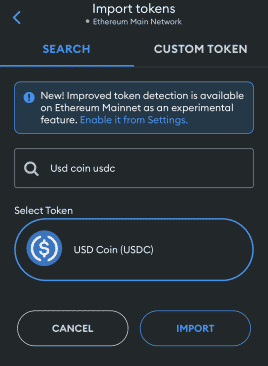 TIP: You can type in the full name of the token to avoid scrolling down.
Step 5: Confirm The Token Was Added
Go back to the front page of the MetaMask application.
You should see USDC there.
If it is not there, you will have to wait a couple of minutes. If it still does not appear, you can try adding the token anew or doing so using the browser version of the process.
How To Remove USDC Token From MetaMask
To remove USDC or any other token from your MetaMask browser extension or mobile application you can do the following:
Browser:
Open the MetaMask extension
Click on the arrow next to USDC
Click on the 3 dots in the top-right corner
Select "Hide USDC"
This will remove the token from the list; You can add it back later
Mobile:
Open MetaMask application
Press & hold your finger over USDC
Click "Remove"
Action Complete
About USDC
USD Coin, better known as USDC, is one of the most popular stablecoins on the market. It is pegged to the U.S. Dollar on a 1:1 basis.
It was founded through a collaboration between Circle and Coinbase.
For every token in circulation and ownership, there is a $1 held in reserve through a mix of cash and bonds. It was officially stated by The Centre consortium that USDC is issued by regulated financial institutions.
Originally, the launch happened back in late 2018, in a limited and controlled settings. Thus, that acted as a sort of a "beta test".
The main goal of USDC is to be "digital money for the digital age". Additionally, the original team says that USDC's design is mostly for a world where we will be making digital transactions, instead of physical ones.
About MetaMask
MetaMask is a crypto wallet that comes in the form of a browser extension (Chrome, Firefox, Brave, and Edge) or a mobile application (iOS and Android). It is well-known for being the best software wallet for ERC-20 tokens. In fact, the wallet only supports Ethereum-based cryptocurrencies & NFTs and BEP-2 & BEP-20.
Nowadays a lot of people use MetaMask to connect to different decentralized applications (dApps). Most notably, people connect their MetaMask to PancakeSwap. There, they exchange Ethereum, for example, for another cryptocurrency that is not available in other crypto exchanges.
It also is a simple entry point to the world of DeFi. DeFi stands for decentralized finances, which is a term used to describe companies that look to provide open, permissionless, interconnected financial services. These services are usually lending and borrowing crypto, as well as other crypto-oriented banking services.
Most NFT marketplaces such as OpenSea support MetaMask. At the beginning of the crypto boom back in 2021, MetaMask got the spotlight as the most popular and easy-to-use crypto wallet to buy NFTs.
Finally, since MetaMask can be connected to many DeFi websites, people are constantly looking to add their ERC-20 tokens to the wallet. MetaMask keeps developing the wallet to make this process easier with time.
Closing Words
We hope that these steps were quick and simple and you had no trouble adding the USDC token to your MetaMask wallet. This allows you to transfer it or use it within any DeFi website that supports the token itself.
Of course, we always make sure to include the mobile version of any processes that take place on a desktop. This is the reason why we showed you how to add USDC to MetaMask using your mobile device. Interestingly enough, it is actually easier than the desktop process.
Aside from that, we always like including information about the products we review. This is why we added the two "About…" sections where you can learn more about both USDC and MetaMask.
Related: "Add Polygon To MetaMask"