This article was last updated on January 27, 2020
Today, one of the greatest basketballers of our time has passed away. Kobe Bryant has passed away at the age of 41 in a helicopter crash. This is why we've decided to honor Kobe by rewriting this article in memory of the GOAT – Kobe Bryant. He was one of the greatest basketball players ever to touch the basketball court.
He is 4th on overall career points.
He won 5 NBA Championships.
He was named NBA Most Valuable Player in 2008.
He holds numerous NBA records and is one of the most widely recognized NBA stars worldwide and I can keep on writing all day about his achievements, but that's not the point.
Let's take a minute and appreciate the man for who he was – a legend!
25 Kobe Bryant Quotes To Remember The GOAT
1. "What people see on court is another side of me; it's not me." – Kobe Bryant "
2. "One thing you gotta know about me is I have absolutely no filter. I have no problem saying what the hell I think of someone." – Kobe Bryant
3. "The most important thing is to try and inspire people so that they can be great in whatever they want to do." – Kobe Bryant
4. "I focus on one thing and one thing only – that's trying to win as many championships as I can." – Kobe Bryant
5. "I'm here. I'm not going anywhere. No matter what the injury – unless it's completely debilitating – I'm going to be the same player I've always been. I'll figure it out. I'll make some tweaks, some changes, but I'm still coming." – Kobe Bryant
6. "I have self-doubt. I have insecurity. I have fear of failure. I have nights when I show up at the arena and I'm like, 'My back hurts, my feet hurt, my knees hurt. I don't have it. I just want to chill.' We all have self-doubt. You don't deny it, but you also don't capitulate to it. You embrace it." – Kobe Bryant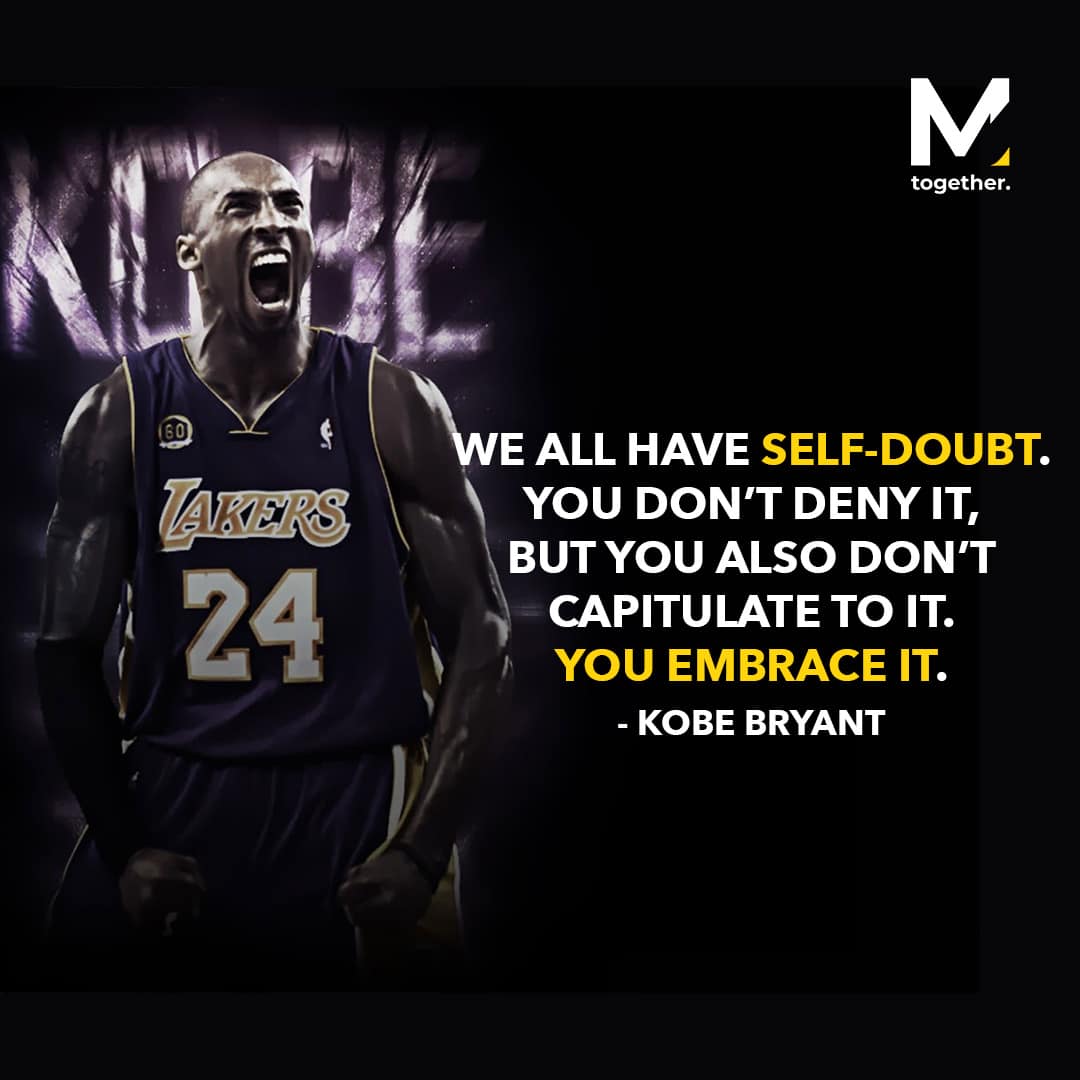 7. "I'm playing against great players, playing against the best in the world. The competition – that's what I've always wanted." – Kobe Bryant
8. "I've played with IVs before, during and after games. I've played with a broken hand, a sprained ankle, a torn shoulder, a fractured tooth, a severed lip, and a knee the size of a softball. I don't miss 15 games because of a toe injury that everybody knows wasn't that serious in the first place." – Kobe Bryant
9. "The topic of leadership is a touchy one. A lot of leaders fail because they don't have the bravery to touch that nerve or strike that chord. Throughout my years, I haven't had that fear." – Kobe Bryant
10. "I can't relate to lazy people. We don't speak the same language. I don't understand you. I don't want to understand you." – Kobe Bryant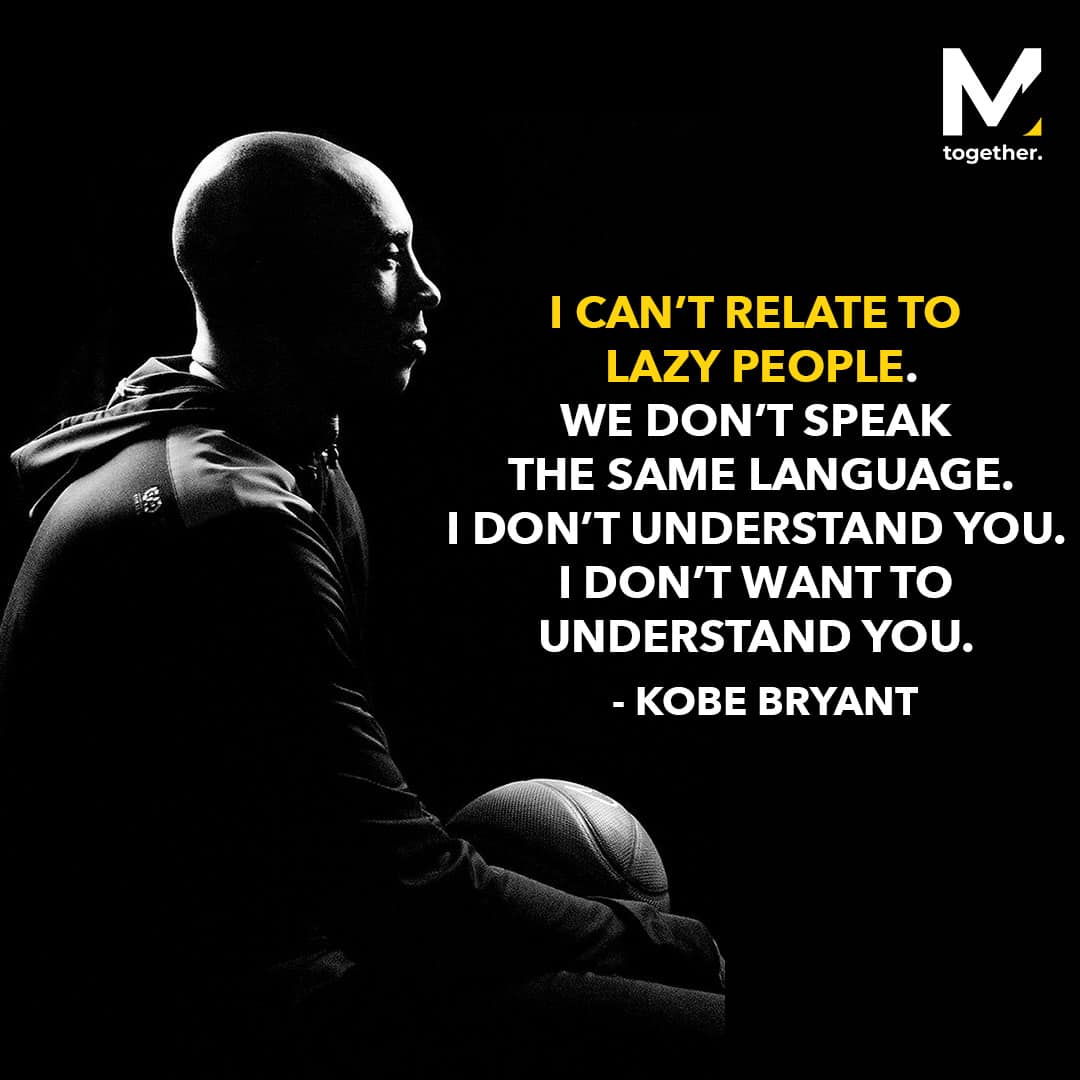 11. "I don't want to be the next Michael Jordan, I only want to be Kobe Bryant." – Kobe Bryant
12. "I'm chasing perfection." – Kobe Bryant
13. "Can I jump over two or three guys like I used to? No. Am I as fast as I used to be? No, but I still have the fundamentals and smarts. That's what enables me to still be a dominant player. As a kid growing up, I never skipped steps. I always worked on fundamentals because I know athleticism is fleeting." – Kobe Bryant
14. "I'll do whatever it takes to win games, whether it's sitting on a bench waving a towel, handing a cup of water to a teammate, or hitting the game-winning shot." – Kobe Bryant
15. "Magic has five championships. I have five championships. I'm pretty sure we both know what we're doing." – Kobe Bryant
16. "I draw from the crowd a lot." – Kobe Bryant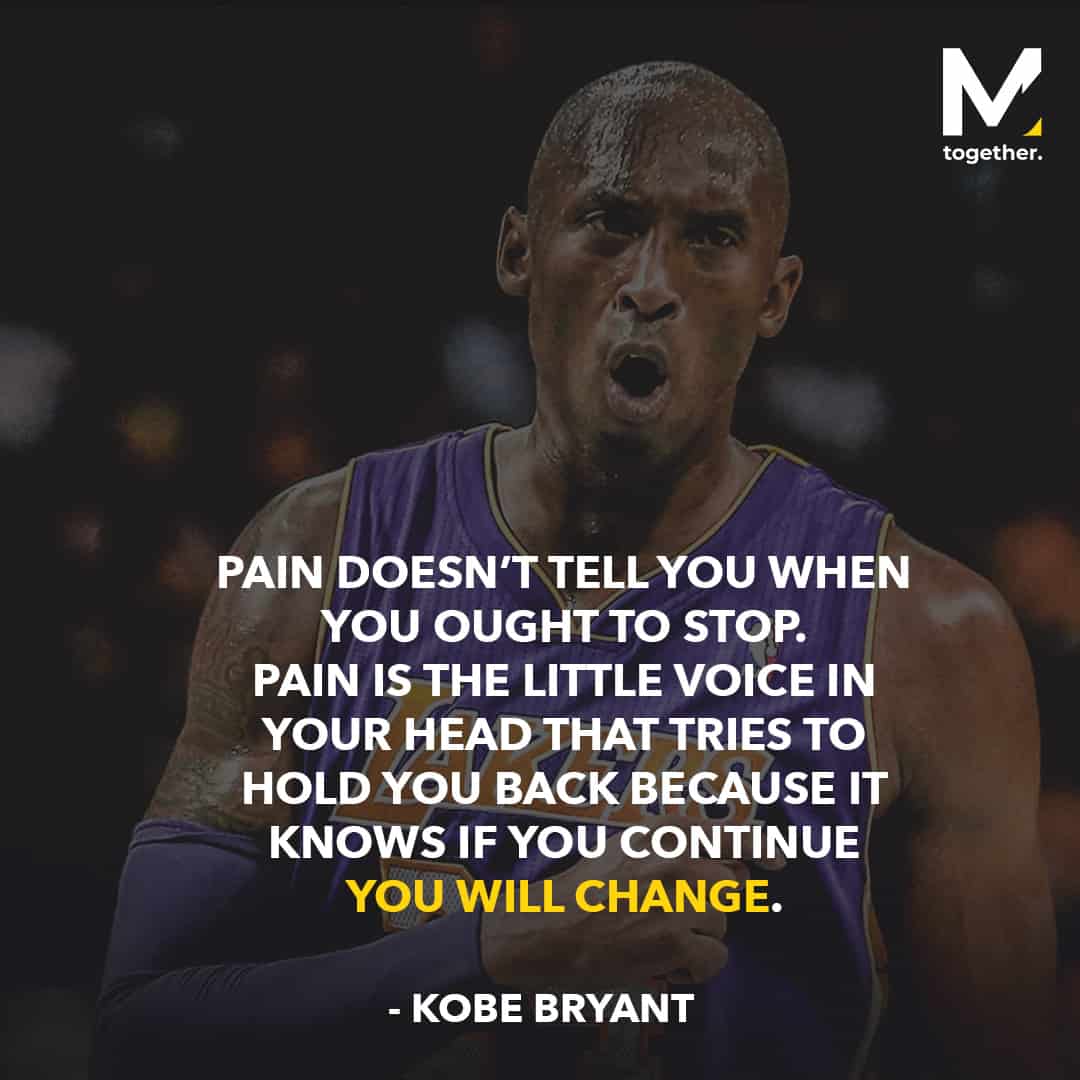 17. "I love going one-on-one with someone. That's what I do. I've never lost. It's a whole different game, just to have them right in front of you and be able to do whatever you want." – Kobe Bryant
18. "I'm extremely willful to win, and I respond to challenges. Scoring titles and stuff like that… it sounds, well, I don't care how it sounds – to me, scoring comes easy. It's not a challenge to me to win the scoring title, because I know I can." – Kobe Bryant
19. "Everything negative — pressure, challenges — is all an opportunity for me to rise." – Kobe Bryant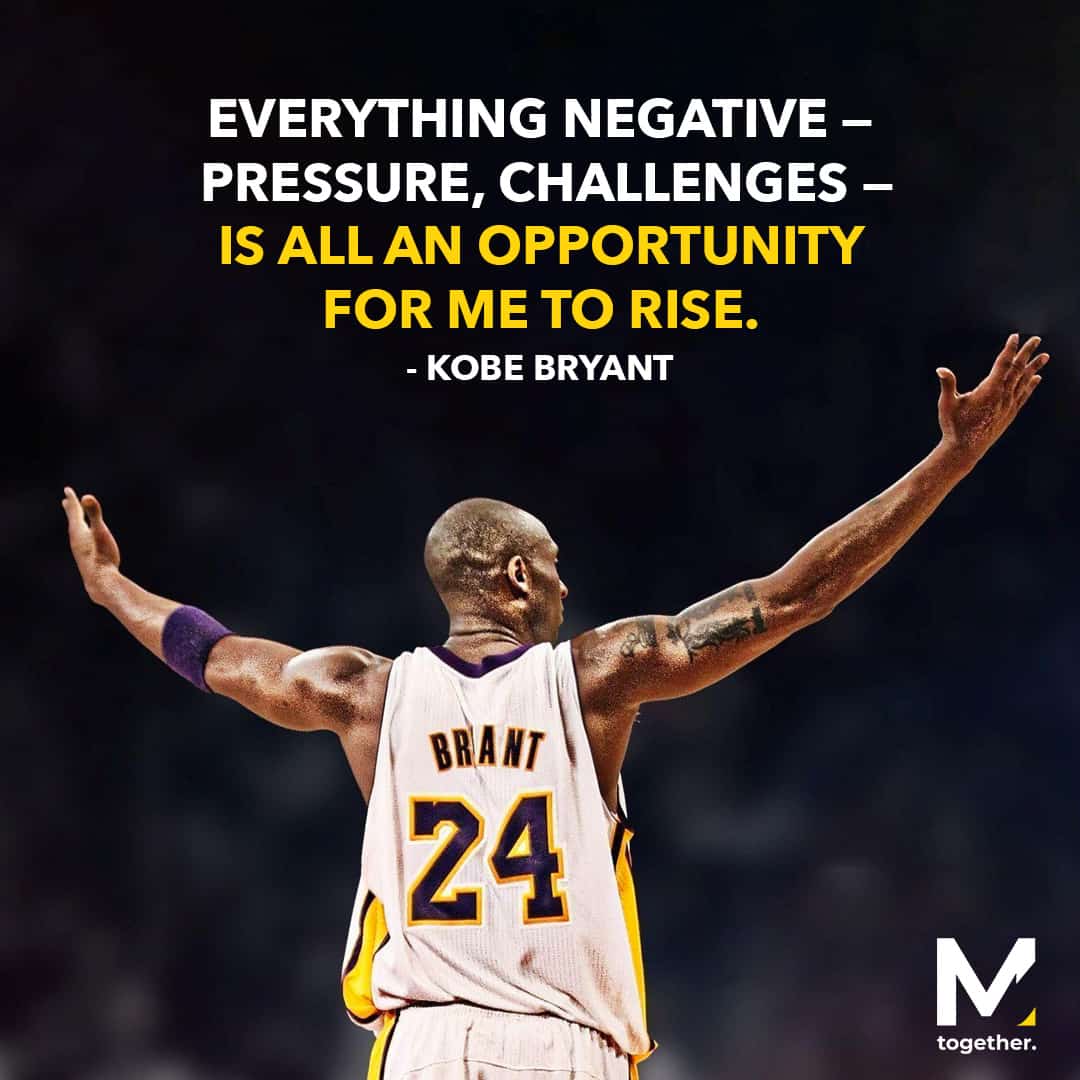 20. "These young guys are playing checkers. I'm out there playing chess." – Kobe Bryant
21. "My parents are my backbone. Still are. They're the only group that will support you if you score zero or you score 40." – Kobe Bryant
22. "If you're afraid to fail, then you're probably going to fail." – Kobe Bryant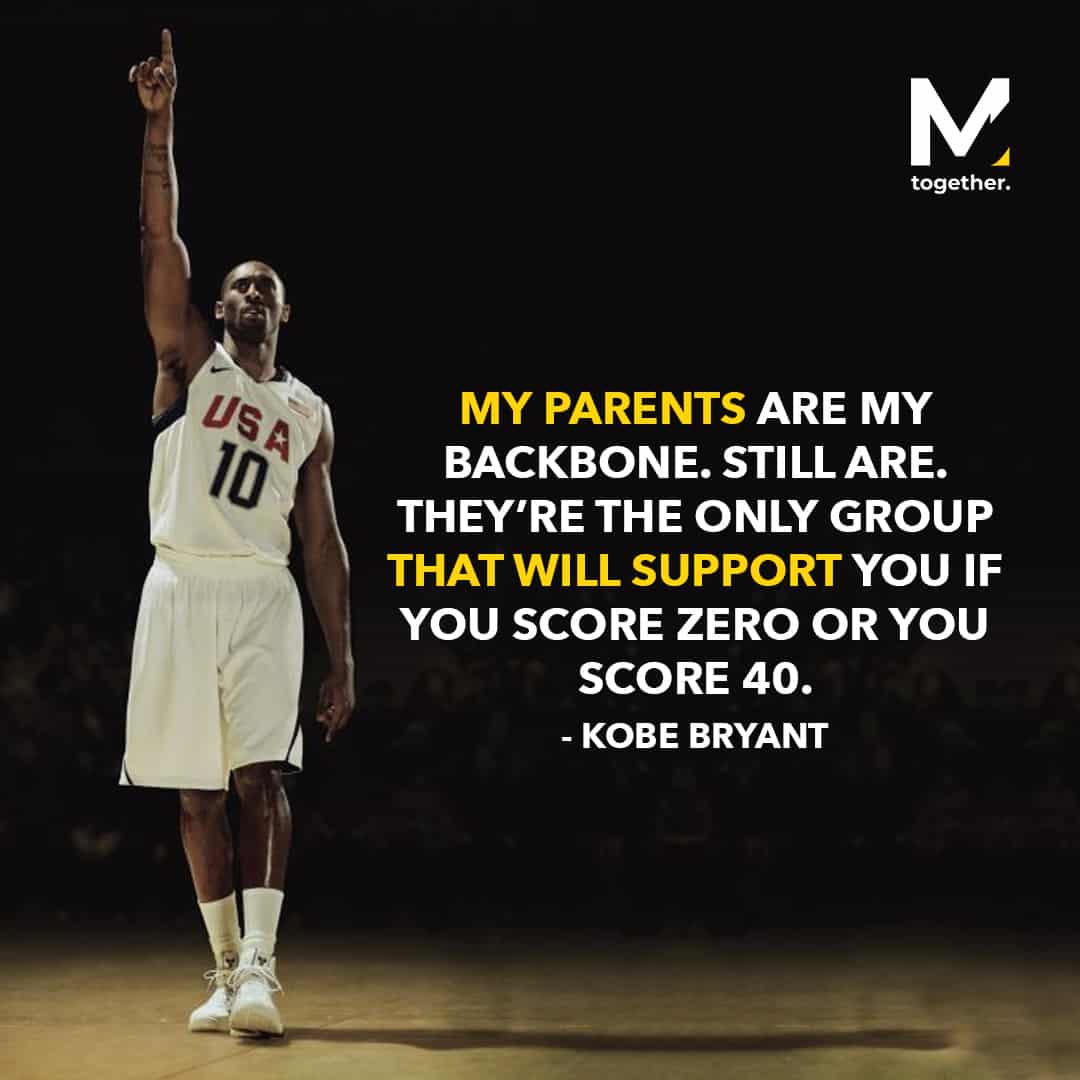 23. "The most important thing is you must put everybody on notice that you're here and you are for real. I'm not a player that is just going to come and go. I'm not a player that is going to make an All-Star team one time, two times. I'm here to be an all-time great. Once I made that commitment and said, 'I want to be one of the greatest ever', then the game became everything for me." – Kobe Bryant Quotes
24. "There's a choice that we have to make as people, as individuals. If you want to be great at something, there's a choice you have to make. We all can be masters at our craft, but you have to make a choice. What I mean by that is, there are inherent sacrifices that come along with that. Family time, hanging out with friends, being a great friend, being a great son, nephew, whatever the case may be. There are sacrifices that come along with making that decision." – Kobe Bryant
25. "Are you willing to push the right buttons even if it means being perceived as the villain? … I'd rather be perceived as a winner than a good teammate. I wish they both went hand in hand all the time but that's just not reality. … I have nothing in common with lazy people who blame others for their lack of success." – Kobe Bryant
Rest in Peace, Kobe!
15 Powerful Les Brown Quotes That Will Inspire You
25 Kick-Ass Dwayne Johnson Quotes
19 Sylvester Stallone Quotes About Pursuing Your Dreams