As you probably already know, Trezor is a company that is developing some of the highest quality hardware crypto wallets on the market. Most notably, their Trezor Model T's been garnering the attention of new investors, and for good reasons. In this article, we will show you how to connect your Trezor Model T to MetaMask.
As for MetaMask, it is inarguably the most popular crypto wallet in the industry. People use it mainly to connect to dApps or websites and play games, buy NFTs, make transactions, send/receive crypto, etc.
So what happens if you connect the two?
Well, if you connect your Trezor Model T, you will get easier access to your assets. This means you will have an easier time transferring tokens from one wallet to another. Not only that, but you will be doing this with a single click of a button.
Without wasting any more time, let's get right into it.
Benefits Of Connecting Trezor Model T To MetaMask
Some of the benefits of connecting your hardware wallet Trezor Model T to MetaMask allow you to:
Check your balance and ERC-20, ERC-1155, and ERC-721.
Sign transactions — For ex. Send ETH and ERC20 tokens and collectibles, deploy contracts, etc.
Sign messages.
Aside from that, the most important reason is being able to connect to dApps and specific crypto websites. Some of them allow for integration of MetaMask, but not with hardware wallets such az Trezor Model T.
This is why connecting it to your MetaMask wallet is so important. This allows you to interact with these websites using the cryptocurrency from your Trezor Model T, while using your MetaMask to connect.
How To Connect Trezor Model T To MetaMask – Extension/Browser
In this section, we will show you how to connect your Trezor Model T to your MetaMask wallet in a quick and simple way. We will use Google Chrome as the browser for example, although it will be similar to other browsers as well. It will take only a couple of minutes!
Step 1: Download/Log In To MetaMask
First, you must log in to your MetaMask account or download and create a MetaMask account. You can see how to do that here. You will simply need to download the extension for Chrome and create the account.
The setup of a MetaMask account takes less than 2-3 minutes to do and is very easy to navigate.
Once you have MetaMask installed in Chrome, you should see the MetaMask fox icon in the top-right corner of the browser.
Step 2: Click "Connect Hardware Wallet"
Once you log in to your account, you will need to navigate to the Google Chrome extension in the top-right corner.
Click on the icon and then click on the top-right corner within the app, where you have an icon with a blue circle around it.
Then click on "Connect Hardware Wallet". See the image below for reference.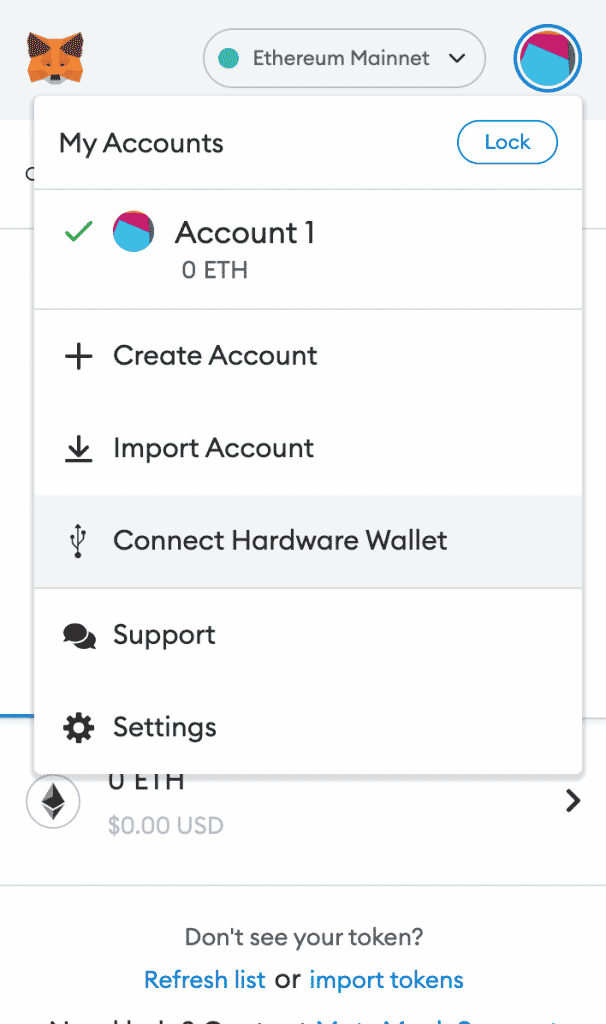 Step 3: Select "Trezor"
Clicking on "Connect Hardware Wallet" will open a new tab in your Google Chrome.
Here, you can select different hardware wallets, depending on which one you have.
We assume you have a Trezor Model T, so click on the "Trezor", which will help you connect it to MetaMask. See the image below.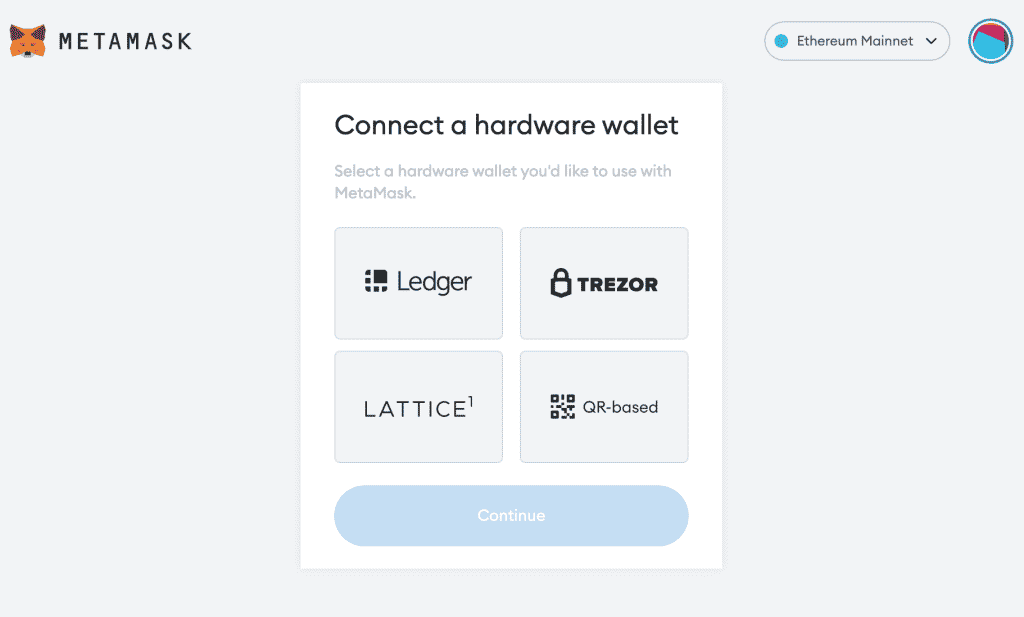 Step 4: Click "Continue"
Once you click on Trezor Model T, you will see a couple of instructions and the the button "Continue".
Click on it once you plug in your Trezor Model T to your computer. See the image below.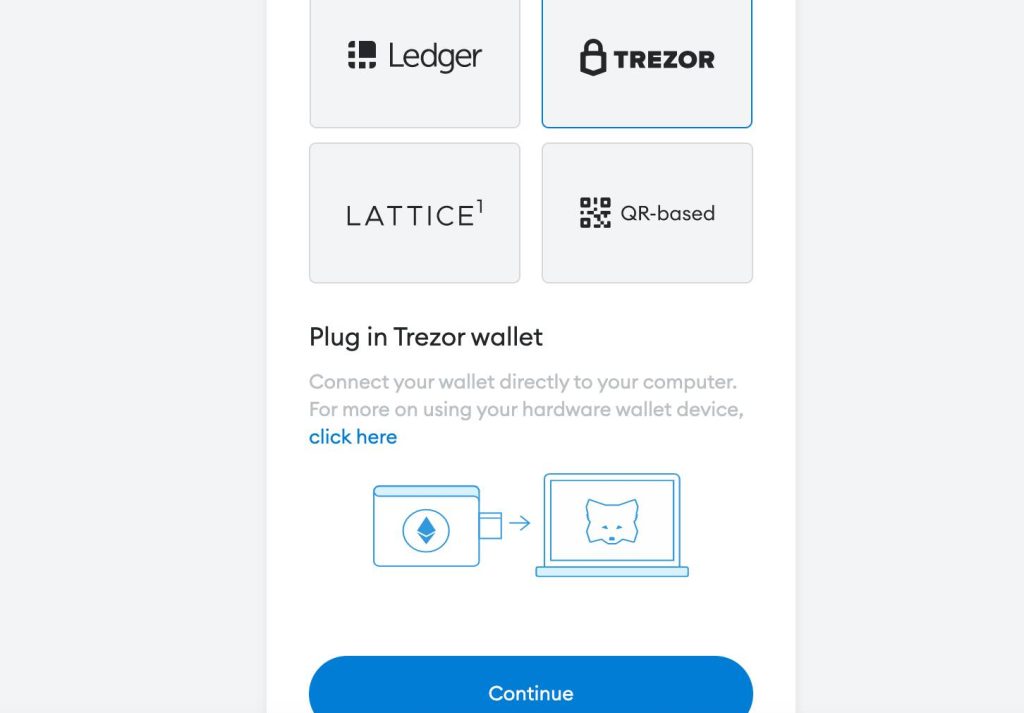 Step 5: Confirm Connection
Once you click "Continue" you will be taken to Trezor's official website.
If you have not connected your Trezor yet, you will be asked to do so once again. See image below.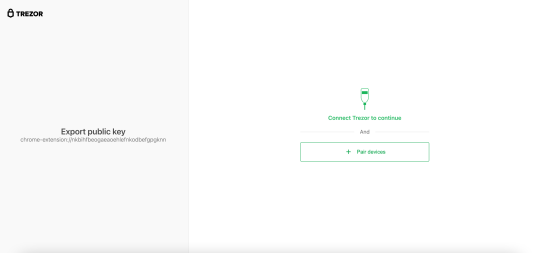 Then, you just need to click on "Pair Devices" and confirm the connection.
You will now have Trezor Model T connected to your MetaMask wallet.
Trezor Model T is a hardware wallet that allows you to store your cryptocurrencies offline. That means that your coins are safe from hackers and other online threats. And unlike other wallets, Trezor gives you complete control over your private keys. As such, no one else can access your coins, even if they have your Trezor device.
The wallet supports over 1000 different cryptocurrencies spanning multiple networks. This means that, unlike Metamask, it is not limited to a single blockchain. Additionally, users can also connect their Trezor Model T device to the Metamask software in order to add NFT support, as we explained and showed earlier.
All of this is available under the highly advanced security that the hardware wallet provides. While Trezor's devices can be a bit pricier, it is definitely worth it if you are concerned about the security of your assets.
MetaMask is inarguably the most popular and widely used Ethereum wallet in the world. It is also the best software crypto wallet choice for beginners. MetaMask mainly operates as a browser extension, however, mobile apps are available for both iOS and Android.
Because of the Ethereum network's wide adoption in building other crypto networks and technologies, MetaMask is compatible with most of the popular altcoins on the market. This makes the wallet incredibly versatile and rich in features. Aside from allowing you to store currencies and tokens, MetaMask also supports NFTs.
As a browser extension, MetaMask is always present in the top-right corner of your screen. With its simple UI and design, connecting and using MetaMask is effortless.
The app is available for Chrome, Firefox, Brave, Edge, iOS, and Android. As such, you will be able to use the wallet regardless of your preferred device or web browser.
Closing Words
That's how easy it is to connect your Trezor Model T to your MetaMask wallet. There are no difficult installations or authorization that you need to go through.
As long as you connect your Trezor Model T to your computer, enter your password, log in to your MetaMask wallet and choose the "Connect Hardware Wallet" you'll be good to go.
The whole process takes less than 5 minutes, even if you are just creating your first MetaMask account.
We also spoke and gave you additional information about both Trezor Model T and MetaMask.
You now also know the benefits of conneting your Trezor Model T to MetaMask.