This article was last updated on July 11, 2022
Nvidia is currently one of the hottest investment opportunities on the market. The tech giant manufactures and supplies some of the most important components necessary for the manufacture of consumer electronics and various other devices. This, coupled with various circumstances like an increased demand due to lockdowns has propelled NVDA prices into the stratosphere. Today, we will look at Nvidia's history and make some realistic price predictions for the company's future.
What Is Nvidia (NVDA)?
Nvidia Corporation is an American technology company headquartered in Santa Clara, California. It designs graphics processing units (GPUs) for the gaming and professional markets, as well as system-on-a-chip units (SoCs) for the mobile computing and automotive market. Its primary GPU product line, labeled "GeForce", is in direct competition with Advanced Micro Devices' (AMD) "Radeon" products.
Nvidia expanded its presence in the gaming market with its handheld SHIELD Portable and SHIELD Tablet, which launched in 2013 and 2014, respectively. Since 2014, Nvidia has shifted to become a platform company focused on four markets – Gaming, Professional Visualization, Data Centers, and Automotive. Nvidia is now also a major supplier of auto infotainment systems, self-driving car components, and drones.
In addition to GPU manufacturing, Nvidia provides parallel processing capabilities to researchers and scientists that allow them to efficiently run high-performance applications. They are deployed in supercomputing sites around the world. More recently, NVIDIA has moved into the mobile computing market, where they produced Tegra mobile processors for smartphones and tablets as well as automotive infotainment and navigation systems.
NVIDIA is currently headquartered in Santa Clara, California, and is run by Jensen Huang as President and CEO. It has a couple of major subsidiaries, namely, Nvidia Advanced Rendering Center and Mellanox Technologies. NVIDIA attempted to acquire Arms Ltd. in recent times, but the deal, which was set to be the largest ever acquisition in the chip sector, fell through. Never the less, Nvidia is one of the best companies in the tech sector and our price prediction is highly optimistic.
Related: Crypto Vs Stocks: Which Is Better?
Nvidia (NVDA) Price History
Before we can look at Nvidia's possible price in the future, we will need to look at its history. This will give us a glimpse into the company itself and allow us to understand it better. For this purpose, we have used readily available data on NVIDIA's stock price over the years. You can find this on platforms like Yahoo Finance.
1999-2000
NVIDIA first started trading on January 22, 1999, when the company had its initial public offering (IPO). At the time, the price of its stock was $12 per share. One month later, in February of 1999, the stock was trading at a much lower $0.46 per share. While this price remained more or less the same for a large portion of the year, by December, it reached $0.98 per share.
Following a rather slow first year, Nvidia reached the $1 mark on the very first day of 2000. However, it did drop off a bit by the end of the day, closing at $0.77. The price of Nvidia continued to increase in the coming months until June. On 27 June 2000, Nvidia initiated a 2:1 stock split. This resulted in prices opening at $2.67 on the 30th of June and closing at $2.67. However, by the end of the year, the price dropped off again, closing at $1.37 in December.
2001-2009
At the beginning of 2001, Nvidia stock prices raised to $2.15 per share. This further increased to $3.37 by June 30. However, on September 12 2001, Nvidia had another 2:1 stock split. This did not have a long-lasting negative effect on prices, and NVDA reached a price of $5.57 per share in December of 2001. Meanwhile, 2002 was not such a good year for NVIDIA. As the year progressed, prices declined sharply in the first half, reaching $0.60 by the end of September. While this negative trend subsided by the end of the year, its effects were clearly visible. In December 2002, the price of NVDA was $0.96.
Following this less-than-ideal year, Nvidia experienced several much more successful ones. At the start of 2003, Nvidia regained its $1 share price. This set a good precedent that continued into 2004 when the company opened at $1.96. By the start of 2005, NVDA prices reached the $2 mark and continued to increase slowly but steadily. By the start of 2006, Nvidia had already passed the $3 price-per-share mark. This was only bolstered by yet another 2:1 stock split in April of that year. This all resulted in the stock closing at $6.17 by the end of 2006.
For the next couple of years, Nvidia had both ups and downs. 2007 was a good year for the company. Opening at $6.18. By the end of that same year, stock prices reached a high of $8.51. However, this increase was quickly reversed during 2008, which was a much less successful year. By December of 2008, share prices plummeted back to $1.97. While 2008 was a devastating year for the company, 2009 offered some respite with share prices regaining some value. By the end of the year, NVDA reached a price of $4.67 per share.
2010-2017
In the coming years, NVDA performed quite well. At the start of 2010, the company stock was trading at $3.85 per share. This only increased over the course of the year, finishing at $3.85 in December. The stock more or less maintained this price for the next three years until 2013. That is when prices broke the $4 mark and continued to grow. In 2014, Nvidia reached $4 per share and continued to grow until the end of 2015, when it passed a price of $8 per share.
2016 is when NVDA really started to take off. The company opened the year at $8.07 and had reached $14 by June. However, it did not slow down, and by the end of the year, Nvidia stock was trading at a price of $24.02 per share. During the following year, the company maintained this explosive growth rate, reaching new all-time heights. During 2017, Nvidia reached $40 by the middle of the year and reached an astonishing $50 by December. However, it did fall off a bit before the end of the year, closing at $48.38 per share.
2018-2020
The following year, 2018, started off strong for Nvidia. The company opened at $48.94, and share prices grew exponentially. By September, they had reached $73.19 per share. However, the company stock started dropping with the closing of the year, plummeting to $33.38 by the end of December. Meanwhile, 2019 was a year of rebuilding for the company. After the bad performance of 2018, Nvidia used 2019 to regain some of its market value. The year opened at $32.66, and by the end of June, NVDA reached $42.18. As time went on, prices continued to increase slowly, reaching $58.83 by the end of December.
2020-2022
2020 was one of the best years for many tech firms, Nvidia not excluded. Thanks to various factors, the company experienced unprecedented growth and reached never before seen heights. 2020 opened at $59.69 per share. However, by the middle of the year, the company had already passed the $100 mark. This growth did not slow, and by the end of December, the Nvidia stock prices closed at $130.55 per share.
Going into 2021, Nvidia did not lose its momentum. The company started the year at a price of $131.04 per share. However, by May, it had passed the $200 mark. This rate of growth continued, and by October, the company reached a value of $300 per share. However, the rest of the year was a bit more turbulent, and the company ended 2021 at a price of $294.11 per share.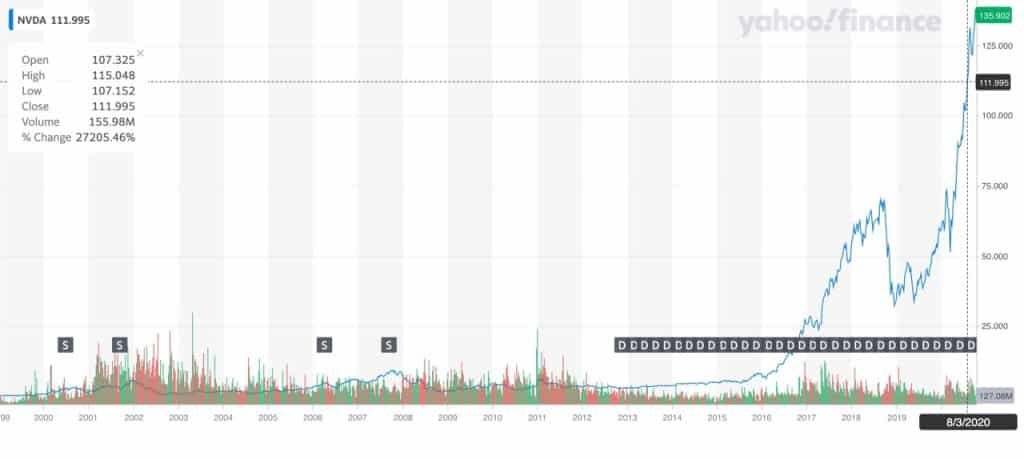 Nvidia Price Predictions: 2022-2030
Nvidia, the same as all other stocks right now, is currently in a bearish phase. Many factors affect the price of a stock, as you probably know. At the moment, the military conflicts in eastern Europe are the biggest reason why we are seeing the market as it is.
Until things settle down, the market will proceed to perform this way. However, this is only one factor, although a major one, that affects the price evaluation of Nvidia.
Other things that we must consider are the company's development, roadmap, product demand/supply, future potential, expected growth, marketing, etc. We will take all of these into consideration when making our Nvidia price prediction below.
Although it is fun to make predictions, we also have to keep in mind that they are usually inaccurate, the further we go into the future. Because of this, make sure you take the following forecast with a grain of salt.
Read the whole section to see our most realistic Nvidia price prediction.
2022
We are already a couple of months into 2022 and things aren't looking pretty for financial markets. Yet many traders believe the market will slowly regain its 2021 value.
In the worst-case scenario, we can see Nvidia dropping a little bit more in value, up to 10%. This would result in a price of around $135.
On the other hand, if things settle in Europe, we can see it grow by 20%-30%. Best case – Nvidia's price is going to be $180.
This makes the average price around $175.
2023
Our 2023 Nvidia price prediction is going to remain conservative. Because Nvidia is a tech company and tech is pretty popular right now, we do not expect the price to continue dropping unless conflicts are left unresolved
However, there shouldn't be more than a 10%-20% change in its price. If we take the average price of $175 for 2022, this would mean around $190 up to $200.
2024
The future price of Nvidia might not be what many want it to be, but staying as realistic as possible is important. Although 2 years may have passed, if Nvidia remains a giant in the tech industry, which is most likely going to be the case, there is no reason to see the price of the stocks to drop. In fact, we expect the opposite
Our price forecast for 2024 remains conservative – an up to 30% change. You could argue that this is quite a lot, but it actually isn't since Nvidia is quite big in the game.
Best case, Nvidia goes up to $260. Worst case – Nvidia is not profitable, or the market remains stagnated and volatile, and the price goes down to $140.
2025
At this point, we must see the team behind Nvidia make some extraordinary moves like releasing new video cards or partnering with even better companies. Since there are many companies with extreme potential and utility, other networks such as Nvidia must match the challenge and continue their growth. Because if it doesn't, it might start staying behind
We can expect the minimum price of Nvidia for 2025 to be $290. However, the maximum price can be up to $350.
2026
Four years are quite a lot for the stock market, which is so hyperactive and recently very volatile. As such, historical data, or any technical analysis for this matter, won't be of any use.
If we believe our previous conservative predictions, we can expect Nvidia to move an additional 20% upwards or 10% downwards.
The best-case scenario here is $340, while the worst-case scenario is $200.
2027
The further we go into the future, the more speculative we get. Our Nvidia price prediction for 2026 remains as conservative. For this reason, if we look at a stock market that calms down a little, we can see further 10%-20% gains or about a 20%-30% drop.
The reason for the drop is that many new companies will have come up. This doesn't directly affect any big players such as Nvidia but is worth mentioning.
If the bearish long-term phase for Nvidia continues, we can see it evaluated at a price of $150 or lower. On the other hand, the maximum price we can see is $380.
2028
There is nothing special about 2028, aside from the fact that there will be even better products by Nvidia and its competitors. Because of this, the challenge will grow.
If Nvidia has not put up a fight by this time, it can drop down by an additional 30%. However, if it manages to stand out, it can grow quite a lot, which it probably will
The minimum price we can expect for Nvidia is $240, while the maximum price is $450.
2029
By 2029, we believe Nvidia will continue growing, most likely. If that is the case and Nvidia sees even further adoption mainly due to their GPUs, it can grow up to $500.
On the other hand, if we see better competitors who are challenging Nvidia, we can see it drop down, resulting in an evaluation of $180.
2030
And finally, we have the start of the new decade. By this time we expect the stock market to see even more new investors. Nvidia, with its own huge corporation, is most likely going to be a great performer.
Because of this, the maximum price we can expect is $600.
On the other hand, the price of Nvidia can drop down to $120, if it starts slacking
Realistic Expectations & Our Opinion
As we promised, we will give our own opinion and expectation for Nvidia. Since it is such a giant company with so many years of experience behind it, we believe it will continue to be a top brand and performer.
Truthfully speaking, the project will most likely continue its growth and develop new great products. This is what we believe will happen in a couple of years.
However, this is the stock market, and anything is possible. Our Nvidia price predictions and opinions might be a bit off, but we firmly believe they are close to what the future will be.
Is Nvidia (NVDA) A Good Investment?
Nvidia is currently one of the hottest companies on the stock market. Like most other companies in the tech and entertainment industries, Nvidia has seen exponential growth in the past couple of years. This is mainly due to the recent Covid-19 pandemic, as well as constraints in various supply chains.
While these circumstances have negatively affected many markets, Nvidia has actually benefited from them. As a supplier of GPUs and various other processing components, the company's products have been in high demand over the past two years. This has boosted sales and allowed Nvidia to grow as an organization. It has also had a very positive effect on stock prices. causing them to increase by over 200% in just 2 years.
Currently, due to a wider decrease in market prices across the board, Nvidia's stock price has also decreased significantly. This makes it an opportune time to invest in the company while it is undervalued. While its price might have fallen off, Nvidia is still one of the best companies to add to your portfolio. It has great potential for future growth and is deeply integrated into multiple markets. It is also one of the largest players in the computer hardware space, manufacturing graphics processing units and other consumer goods.
How To Buy Nvidia (NVDA) Stock
Like all popular stocks listed on major exchanges, Nvidia is available to buy from most online trading platforms. This means that you will have a wide variety of services to choose from. As such, investing in Nvidia has never been simpler, and you should be able to do it with minimal effort. Below we have provided an in-depth outline of the general steps you will need to take to invest in Nvidia and where you can find the stock.
Choose An Online Trading Platform
The first thing you will need to do is choose an online trading platform that carries Nvidia (NVDA). Luckily, the stock is quite popular and is present on most major platforms like eToro, Robinhood, Interactive Brokers, TD Ameritrade, and many others.
Create An Account
After you have chosen your trading platform, you will need to create an account if you don't already have one. This process is usually pretty straightforward and usually takes only a couple of minutes. However, you will need to provide personal information such as full name, date of birth, email address, and country of residence.
Verify Your Account
Once you have set up your account, you will also need to verify your identity. This process is a bit lengthier and requires some additional information. Generally, the platform will require that you provide copies of your photo ID, proof of address, and other documents. This is in accordance with Know Your Customer (KYC) laws which aim to prevent fraud.
Fund Your Account
Next, you will need to deposit funds into your account. You will use these to make your investments. The amount you can deposit will depend on the platform you are using. However, you should be able to deposit more than enough to meet your investing needs. Each platform will support different payment methods and have varying minimum requirements, so watch out for these when choosing the one you wish to use.
Buy NVDA
Once you have supplied your account with sufficient funds, you can purchase Nvidia (NVDA) stocks. Head over to the markets section of your platform and search for the NVDA symbol. Once you have found the Nvidia, place an order for as many shares as you would like to buy. Alternatively, you can input how much funds you would like to spend, and the system will show you how many shares that translates to.
Conclusion
All in all, Nvidia is still one of the best companies that you can invest in. It is uniquely positioned as a supplier of crucial components for the tech industry. The company's products are used in a variety of consumer electronics as well as many non-consumer oriented machines. As such, Nvidia's products are an invaluable part of today's highly tech-reliant world. This places the company high on the supply chain and allows it to enjoy prosperity, regardless of many negative factors affecting the market. This is why our Nvidia price prediction is highly optimistic and we believe that NVDA is one of the best stocks you can invest in.
FAQ
Is Nvidia (NVDA) a good investment?
Nvidia is one of the most reliable and safe companies currently on the market. While diffinately not immune to fluctuations, the company produces invaluable electronic components that are necessary for the existence of multiple other industries. This makes it a very stable organization placed high up on the supply chain. Read our full Nvidia price prediction for our reasoning and future expectations for the company.
Is now a good time to buy Nvidia (NVDA)?
Currently, the stock market is experiencing what is known as a bear run. As such, prices of stocks are falling across the board. This makes investing a bit counterintuitive as many people are worried about the future. However, as many experts will tell you, now is the perfect time to invest while prices are low. As soon as an inevitable upswing ocurrs, your investment will pay off.
Can Nvidia (NVDA) Reach $1000?
Currently, Nvidia is trading at a little under $170 per share. While that is a very good price, it is a result of numerous factors currently affecting the market. However, many of the issues affecting supply chains are now subsiding. Demand is also slowly decreasing due to the lifting of pandemic measures. As a result, Nvidia's growth will likely slow down. In our Nvidia price prediction, we stated that we do not see Nvidia going past the $600 mark in the next 8 years.
Should I Buy Nvidia (NVDA)?
Currently, Nvidia is regarded as one of the best and most sound investments you can make. The company's stock prices have exploded over the past several years thanks to several factors. These include increased demand due to lockdowns and crypto mining as well as microchip shortages which have made Nvidia products highly valuable. Many of these trends are expected to continue for the foreseeable future, assuring that the stock will maintain its growth and value.
Read Next: What Is Year Over Year?