Whether you are just starting your career search as a youngster, or perhaps you have finished college recently and seem lost or maybe you have been laid off from your job, I recommend to my friends and clients to go back to the beginning and ask yourself the simple question:
Why do I want to do what I do?
To help in answering that question, I recommend performing some introspective work by reading. Below you will find eight books that I found helpful in my own search.
8 Crucial Books for Finding Purpose in Your Work and Life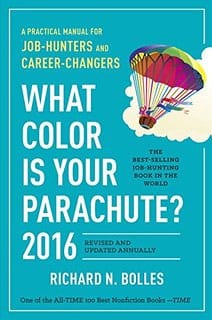 What Color is My Parachute? – Dick Bolles
Author Dick Bolles self published this classic job seekers book in 1970 and since 1975 has updated it every year. Considered by many as the original guide to finding work, it's a great place to start your search.
"Always define WHAT you want to do with your life and WHAT you have to offer to the world, in terms of your favorite talents/gifts/skills-not in terms of a job-title." – Dick Bolles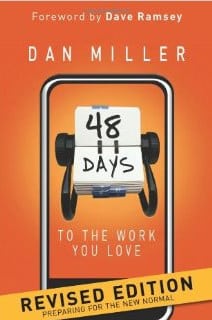 48 Days to the Work You Love – Dan Miller
Having grown up in a Mennonite community, author Dan Miller found the mindset of this community to be limiting. Educated in Psychology, Miller takes the reader through a process of self discovery and then into the job search process, a process that works for any job type. I have tried this process and found great success.
"Better questions to ask regarding a career or job choice would be: What was I born to do? What would be my greatest contribution to others? What do I really love to do (and when I'm doing it, time just flies by)? What are the recurring themes that I find myself drawn to? How do I want to be remembered?" – Dan Miller from 48 Days to the Work You Love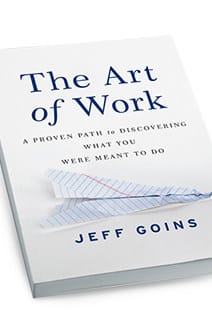 The Art of Work: A Proven Path to Discovering Work That You Were Meant To Do – Jeff Goins
Blogger and writer Jeff Goins shares stories of people who have pursued work that matters. An easy and inspiring read for anyone looking to find fulfilment and meaning in their work.
"Successful people and organizations don't succeed in spite of failure. They succeed because of it." – Jeff Goins from The Art of Work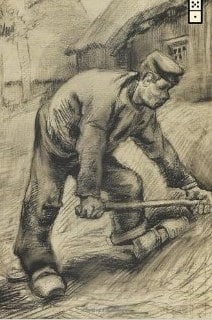 Do The Work – Steven Pressfield
From the best selling author of both fiction (The Legend of Bagger Vance) and non fiction (The War of Art) Steven Pressfield takes the reader through why we fail to live out our potential and how to take steps in living out that potential.
"A child has no trouble believing the unbelievable, nor does the genius or the madman. It is only you and I with our big grains and little hearts who doubt and overthink and hesitate." – Steven Pressfield from Do The Work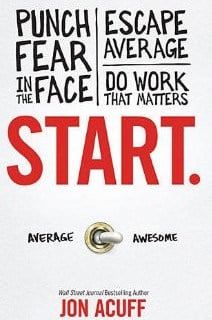 Start: Punch Fear in the Face, Escape Average and Do Work that Matters – Jon Acuff
Jon Acuff, in the follow up to his best seller Quitter, takes us through the five stages of success, a roadmap that has been followed for over 100 years. Acuff contends Baby Boomers have been lulled into a false security and he raises our awareness in speeding up the stages and reaching "awesome" sooner than staying on the traditional path.
"People are mistaken when they think chasing your dreams is a selfish thing to do. As if perhaps being average is an act of Humility. As if perhaps wasting talents you were given is proof that you're a considerate individual. It's not." Jon Acuff from Start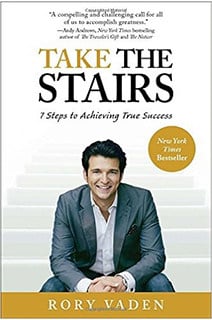 Take the Stairs – Rory Vaden
Rory Vaden, a world class speaker and author, writes that the path to success in any endeavor is self discipline. We live in a escalator world of shortcuts and quick fixes that rarely last. This book is a great guide to finding lasting success.
"Success is often not the result of our major decisions, but more deceptively it is the aggregate sum total of all of our small and seemingly insignificant ones. Success comes down to choosing the Hard Right over the Easy Wrong consistently." – Rory Vaden from Take the Stairs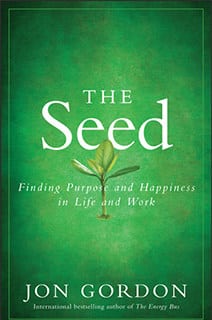 The Seed: Finding Purpose and Happiness in Life and Work – Jon Gordon
One of the enduring facts about Jon Gordon's writing is its relatable nature. By using the form of a business fable, Gordon takes up through the story of Josh, an up and comer at his company. But Josh is tortured by his meaning at work. Forced to decide if he is committed to the company in two weeks by his boss, Josh goes to the country and meets a farmer who gives him a seed and some advice. Find the right place to plant the see and his purpose will come to life.
"Don't seek happiness. Decide to work with passion and purpose and happiness will find you." – Jon Gordon from The Seed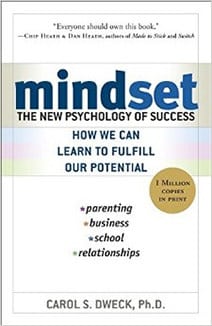 Mindset: The New Psychology of Success – Carol Dweck
Stanford University Psychology professor Carol Dweck writes that our mindset will determine our outcomes.
A fixed mindset sees talent and ability as fixed, something you are born with and can't improve upon.
A growth mindset is one that takes existing talent, nurtures it, develops it and goes on to greater things. This mindset can be found in every great leader around the world.
"No matter what your ability is, effort is what ignites that ability and drives it into accomplishment" – Carol Dweck from Mindset
Final Thoughts
Regardless of where you are at with your job search, take the time to read as many of these books as possible. Take action by discovering yourself and how to best apply that value to the world.
Take a moment and leave a comment below. I would love to hear where you are struggling in your search for work that matters.  
Photo credit: Unsplash.com