This article was last updated on August 8, 2022
If you are a crypto enthusiast, you've most likely already heard about the 1inch Network (or 1inch Foundation). It quickly rose to popularity back in 2021 for many reasons we will discuss in a moment. The utility of the 1inch Network ignites the interest of many, even through the crypto market crash. This directly translated into a draw in 1INCH's price and predictions for the foreseeable 2025 and 2030.
DeFi's been a hot topic for quite some time now, intriguing the DeFi community in the utility of the 1inch Network. The network's quite innovative and allows users to experience the potential of DEX (Decentralized Exchanges).
Familiarity with arbitrage will help you understand what 1inch stands for and what its goals are. You are unsure what arbitrage is? For more information, we suggest checking our article covering the topic – Crypto Arbitrage – How To Make Money From Market Inefficiencies.
In short, arbitrage is a trading strategy that involves trading on multiple markets at once for a profit from the difference in prices. A great example would be if you buy an asset from a platform for a certain price and immediately sell it on another platform for a slightly greater price, thus the profit.
If you are new to the crypto world, we suggest you start with this article: Crypto For Beginners – Learn Everything About The New Technology.
If 1inch Network caught your interest, in this article, we would be covering a couple of important topics. This includes what 1inch Network is, the history of the 1inch Network, the use of 1INCH, its price history, and finally, our predictions for 2025 and 2030. Let's get right into it.
Over the past week, the price of 1inch (1INCH) remained around $0.84. The circulation supply is 571 million tokens. The market cap went up to $480 million.
Contents
What Is 1inch Network?
The 1inch Network is built on the Ethereum blockchain and consists of several important protocols. First, we have the 1inch Aggregation Protocol, following are the 1inch Liquidity Protocol, 1inch Limit Order Protocol, and the 1inch Wallet. Of course, this also includes the native token – 1NCH. We will not get into technicality in this sub-section, however, we are going to explore each of these protocols.
Once we do, you will get a better idea of how we will explore the price predictions for 1INCH for 2025 and 2030.
1inch Aggregation Protocol (DEX)
When talking about the 1inch Network, what comes to mind to most is DEX. This is mostly because DEXs are a great feature of the DeFi sector, which is how 1inch rose to stardom. The 1inch Aggregation Protocol integrates the Pathfinder algorithm, which helps discover the best paths across liquidity sources on Ethereum, Binance Smart Chain, Polygon, Avalanche, and more.
This way, 1inch offers its users better rates than other exchanges, due to its efficiency, by solving the slippage issues in the DeFi and exchanges space. Slippage is the term for the difference between what you expect the price of an asset to be when purchasing it and the price that you actually pay for it. In other words, when the DEX spreads buying orders across other platforms, reducing the slippage percentage(and the chances of slippage overall).
The effect is more noticeable for larger orders, as this is where problems usually occur with slippage.
1inch Liquidity Protocol (Mooniswap)
1inch's Liquidity Protocol, or Mooniswap, is an automated market maker (AMM). An AMM utilizes smart contracts to enable DEX crypto swaps, without the requirement of an order book. Its main purpose is to protect traders from front-running practices in the crypto market.
Front-running (tailgating) is the prohibited practice of entering a trade as an investor or a broker because one has foreknowledge of a high-volume confidential deal. These deals usually highly impact the price of an asset, which is why the traders/investors join the trade.
Mooniswap also has a goal to increase earnings for liquidity providers. Additionally, it prevents arbitrage abusers from earning an unfair share from crypto swap slippage from the users.
1inch Limit Order Protocol
The 1inch Limit Order Protocol allows users to place an order which the centralized 1inch database stores through the 1inch UI. Limit orders are essentially boundaries you place for buying and selling for a certain price (limit price). This is a great way to avoid losses or buy the dip while away from devices.
Once you place limits, none of the orders is sent to an individual user, but rather, they will be executed/completed by anyone. What is interesting here is that this also includes the 1inch Aggregation Protocol. This means that you will be getting the best possible prices because of the DEX.
1inch Wallet
As part of the DeFi expansion of the 1inch Network, the team developed a "highly protected and innovative solution for storing, transferring and swapping crypto assets with your smartphone.". This is their native crypto wallet, which is used the same way you'd use a regular crypto wallet.
What should be noted here is that the wallet allows you to use the DEX directly through the mobile app. Furthermore, they take pride in the security of the wallet, as it parses call data, and has the Secure Enclave technology set, by default.
Another interesting feature here is that you will be easily importing wallets, by scanning private key strings, or seed phrases using your device's camera. Simply put, this works in a similar manner to QR code scanning.
Chi Token (Gas Fee Token)
The Chi Token is a unique feature of the 1inch Network. In essence, it is used to pay for Ethereum gas fees, and moreover, to save on them. However, the way it works is very interesting, just like tokenized gas.
If you wish to save on gas fees, all you'll have to do is purchase the token when the price of the gas fees is low. Afterward, during transactions, or whenever the congestion is high, you can use the Chi Token to pay for your gas fees. This is possible because the Chi Token is pegged to the price of the Ethereum gas fee.
All of these features will allow us to better look into the price prediction for 1INCH for both 2025 and 2030.
History Of 1inch Network
The 1inch Network was founded back in May 2019 by Surjey Kunz and Anton Bukov during the ETHGlobal New York Hackathon. The two first met on Kunz's YouTube channel named CryptoManiacs and quickly became acquainted. Together, they won a hackathon in Singapore and a couple of awards at ETHGlobal.
Before 1inch, Sergej Kunz worked as a software engineer at Porsche, as well as a senior dev at Commerce Connector. Additionally, he was a project manager at Mimacom (consultancy) and coded for comms agency Herzog. His forte was DevOps and cybersecurity.
Anton Bukov has extensive knowledge and experience when it comes to software development. He began his career in 2002 and later got into DeFi in 2017. Bukov worked on many projects, most notably, part of his resume is the affiliation with NEAR Protocol and gDAI.io.
1INCH Token Utility
For starters, 1INCH is the native Ethereum token that powers the 1inch Network. The token was launched in December of 2020 when it was first distributed. Its main use is as a governance tool, allowing holders to stake their tokens. Following this, one is able to vote on how the project operates, both current and future protocols. Naturally, this also includes any major changes affecting the whole 1inch ecosystem.
Aside from this, one can stake, hold, spend, and send the token. 1INCH utilizes 1inch Network's tokenomics and one can use it to pay for fees in multiple services.
Finally, it is important to know that 1INCH is a multichain token, available on both Ethereum and the Binance Smart Chain (BSC). Because of its utility, it is not surprising why 1INCH is now a well-known token.
Price History & ATH Analysis
In order to get a better idea of what the price of 1INCH is going to be in 2025 and 2030, or, as a matter of fact, make any sort of prediction, we will need to look at the price history of the token.
At release, in December of 2020, the price of the token was around $2.30 but quickly dipped down to $1.50. This is not unusual for many projects, as pre-release supporters sell immediately for a quick profit.
By the end of January 2021, the price quickly picked up and went between $4.60 and $5.70. This remained so up until May.
In May 2021, 1INCH reached its all-time high (ATH) of $7.47. Following this fortunate event for owners of the token, the crypto market crashed and prices moved sideways up until October.
For Q3 of the year, 1INCH reached a high of $5.67, after which it once again dipped. The current price of 1INCH is around $0.79, which many would consider a huge discount. However, is there any further potential for the 1inch Network and the price of 1INCH? Let's explore that.
1inch Price Prediction For 2025 And 2030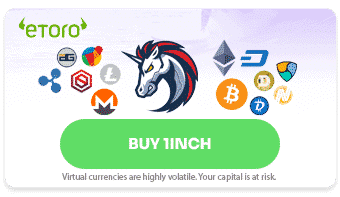 Currently, the price of 1INCH is almost five times lower than its ATH. Because of this, many who were in the project because of the hype, have probably lost hope in the future of 1INCH. However, this is absolutely not the case. There are many factors that need to be considered when predicting prices.
Of course, predictions are mostly speculations, although they can be a helpful arrow of what an asset's price might be. This is especially true when covering cryptocurrencies, because of the high market volatility. Furthermore, we will be discussing predictions for 2025 and 2030, which can be a bit more abstract, than predicting the price of 1INCH for 2022. With that in mind, let's get right into the analysis.
1INCH Price Prediction For 2025
The general public believes that 1INCH will most likely surpass the $20 mark by 2025, which would be a 13x rise from its current price. This is mostly due to the potential of the 1inch Network, which not only offers arguably the best DEX out there but also utilizes many other features.
According to the official subreddit of 1inch, some enthusiasts are more optimistic, while others are a bit skeptical. The positive thinkers believe that during the next bull run in 2022, the price will reach at least $10, while until 2025, it will reach between $25 and $30.
When talking about predictions, we cannot go off without mentioning bots developed to do exactly that. Once you go through most of them, you can see the tendency. If we were to explore the average price of 1INCH by 2025 through these bots, things become a bit more clear.
Taking all averages into consideration, we can conclude that the expected price for 1INCH by 2025 is anywhere between $15 and $25, which is a bit volatile, but so is the crypto market.
1INCH Price Prediction For 2030
Those who firmly believe in the purpose of the 1inch Network are naturally more optimistic than the general public. They believe 1INCH will reach a price of at least $40, where some even argue that it could hit $50. Of course, there are also those who believe 1inch will be inexistent by then. However, if we consider how much utility the whole network offers, the latter statement is most likely untrue.
Once again, when going through the official subreddit, we can see enthusiasts discussing their predictions. Most of them believe the price will remain between $25 and $40 unless major new features are introduced to the ecosystem.
The tokenomics of the 1inch Network are nothing to be taken lightly. However, outside of utility, luck, and marketing are also factors that should be considered. If the team behind the network manages to re-introduce itself to the general public within the next years, then it is quite possible that all of these predictions can come to light.
Finally, when we look at what the algorithm of bots has to say, we can take each one's average and combine it. After doing so, we get an average expected price for 1INCH standing between $40 and $60. The gap is definitely noticeable, but because of the high market volatility, no specific price can be pinpointed.
This concludes the 1INCH price predictions for both 2025 and 2030. However, remember not to take these numbers too seriously.
Is 1INCH Good Asset To Invest In
Before we get to conclusions, we must first explore what makes a cryptocurrency a good investment. There are many factors that will come into play when deciding whether a token will grow or not. Some of these aspects include tokenomics, utility, hype, marketing, and even luck. Tokenomics is the term used to determine how desirable a token's features are to investors.
The tokenomics of 1INCH are considerably better than many cryptos out there. To start off, the DEX platform is already quite beneficial for users. Additionally, their other features – Mooniswap, Chi Token, The Limit Order Protocol, and Wallet, can all be used immediately as well.
Some 1inch Network enthusiasts believe that the current problem the foundation is facing is the lack of marketing. We can definitely agree with that, but there are also some other factors here. Nobody can argue that it takes a significant amount of luck for a network to succeed, especially in the short term.
If we look at our 1INCH price predictions for 2025 and 2030, and all the tokenomics, we can easily see why 1INCH is a potentially good investment in the mid-term and long-term. It already is a leader in the DeFi space, however, it is not well-known by the general public.
The biggest problems for the 1inch Network arise from the many DeFi competitors we will be seeing in upcoming years. Not only that but also the lack of proper introduction to the crypto community is what seems to keep 1INCH away from the top 50 tokens by market cap.
Realistically speaking, due to the network's performance and its continuous development to this day, we definitely see the potential. If you believe in the potential, then the current price of 1INCH can be looked at as a discount. Additionally, if the predictions come to fruition, it will mean that the current dip might be an excellent time to join.
How To Buy 1INCH
Summary
To purchase 1INCH, follow the steps below:
1. Find a crypto exchange platform (CEX) that offers 1INCH.
2. Create an account with the CEX (i.e eToro, Binance, Coinbase, KuCoin).
3. Deposit funds to your account's balance or directly purchase 1INCH.
4. 1INCH will be stored in your CEX integrated wallet.
5. (Optional) Create a non-integrated wallet and transfer 1INCH from CEX to it.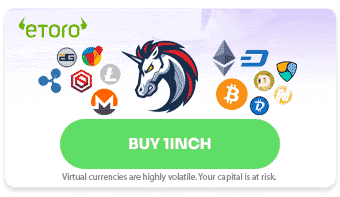 In Detail
Steps to purchase 1INCH:
You need to find a crypto exchange platform where 1INCH is listed. There are exchanges such as eToro, that are not 100% focused on crypto assets, but still, offer them. On the other hand, we have dedicated crypto exchange (CEX) platforms, most notably Binance, KuCoin, and Coinbase.
Next, you need to create an account with the CEX you chose. This can take some time, as you will be submitting documents that need to be reviewed.
After your documents are approved you can start making deposits. You can either add money to your account or directly purchase 1INCH. It will depend solely on your preference.
Once you purchase 1INCH, it will directly be stored in your integrated wallet. All of the aforementioned CEXs have integrated wallets. However, even if rarely, there are some smaller CEXs that do not offer this option.
(Optional) If you wish, you can also obtain a crypto wallet (MetaMask, Exodus, Trezor, etc.). This will allow you to transfer your assets from a CEX, to this wallet, which usually costs negligible fees.
Closing Words
With the current bear crypto market run, many are looking for potential assets to buy at a "discount". This is also the reason many are looking into price predictions. More specifically, some are interested in the 1inch Network, due to its numerous advantages. It is a leader in the DeFi space without a doubt, after all.
Judging by our analysis and price predictions, there aren't notable reasons why the platform won't continue to expand and be adopted widely. Of course, there are many variables when it comes to the crypto market. As we mentioned earlier, hype and luck are also part of the equation.
The greatest catalyst for 1inch is definitely going to be its DEX. Due to the congestion of networks and slippage, many investors are being affected. Thus, reducing slippage percentages is quite important. If you trade alt-coins in large volumes, then this is probably one of the safest and most profitable ways to do so.
Going back to price predictions, they should be taken with a grain of salt. After all, these are pure speculations, even if based on analysis. The crypto market is too volatile to be making any long-term forecasts. Believing in the potential of a cryptocurrency and its network are the most important factors, rather than prognoses.
In conclusion, unless an unexpected misfortune occurs, there aren't grounds why 1INCH won't see massive adoption. We will be keeping a close eye on the development of the 1inch Network and keep you updated.
Interesting read: What Will Shiba Inu Be Worth in 2030?