This article was last updated on June 10, 2022
Many memecoins nowadays are based on the popularity of Dogecoin. Dogelon Mars (ELON) is one of these projects. It is one of the few memecoins that made a breakthrough and is quite popular. This is why we will be going over what Dogelon Mars is and how you can buy it.
Before that, we have a quick suggestion. If you are new to the crypto space and have little to no knowledge, we recommend checking our dedicated guide for crypto beginners. The foundation you build will help you translate it into the world of crypto.
That aside, let's talk Dogelon Mars. The cryptocurrency, similar to other memecoins, came to life back in April of 2021. That's exactly when the other joke coins came to life. However, most of those died out.
Interestingly enough, that is not the case with the Shiba Inu + Elon Musk fusion token. It is currently within the top 150 cryptocurrencies on the market by capitalization.
In this article, we will learn more about the Dogelon Mars network, its history, tokenomics, price history, competitors, and more. Without further ado, let's get right into it.
How To Buy Dogelon Mars – In-Depth
Time needed: 20 minutes.
This is an extensive guide on how to buy Dogelon Mars. Follow these 6 simple steps, including an optional one, to become a proud owner of ELON:
Find a crypto exchange that offers ELON.

Although this sounds like an easy step, there are only a handful of exchanges that offer Dogelon Mars. These are Crypto.com, KuCoin, Gate.io, Gemini, and some others, however, these are the most credible ones. Other users prefer buying ELON through PancakeSwap. Nevertheless, we will be showing you the easiest way to obtain ELON.

Create an account.

Now that you've chosen your crypto exchange, create an account. The signup is the easy part. Before you can make a deposit, you will be required to provide proof of your identity. This can include pictures of your ID, utility bills, etc. Once sent, it can take up to five business days to get approved.

Fund your account.

Once your account's been verified you will be allowed to make deposits. Keep in mind that each exchange has a different minimum deposit amount you have to cover. You can make a deposit by going to the "Deposit" section of said exchange.

Purchase USDT.

Since USDT is the main cryptocurrency that people exchange for ELON, you will need to buy some. Choose the amount you wish to buy on any crypto exchange and confirm the transaction.

Exchange USDT for ELON.

Search for ELON in the crypto exchange platform and select "Trade/Buy/Swap". Choose USDT as the token you wish to exchange for ELON. Select the amount of USDT. Review how much you ELON you will receive and confirm the transaction.

(Optional) Transfer ELON to an external crypto wallet.

Experienced traders use exchange platforms to purchase tokens. However, right afterward they transfer their assets to external wallets. In the section below, we will be going over the best wallets to hold Dogelon.
What is Dogelon Mars
Dogelon Mars is predominantly an Ethereum-based token, but also has Polygon and Solana-based versions. This closely follows the lead of other memecoins such as Dogecoin, Shiba Inu Coin, and others.
As we mentioned earlier (and as you probably have noticed) the name of the Dogelon Mars derives from the combination of Doge (the Shiba Inu breed meme) and Elon Musk (the most enthusiastic memecoin supporter). And Mars is a reference to the popular "to the moon" term, in combination with the fact that Elon wants to get humanity to Mars.
This is also its main selling point on the surface. Let's face it, nowadays unknown crypto projects need to find a way to attract investors' attention and that's what Dogelon Mars does great.
The main purpose of the project is to be a real memecoin (practically). The official website of the token features a comic series telling the story of our main character Rufus Mars (Dogelon Mars). There are 4 comic pages in total for now. We also know that it is a fork of Dogecoin.
Other than that, there isn't any goal behind Dogelon Musk, it is mainly used for trading/buying and selling).
However, according to the official website, the project is not looking to remain a memecoin. It wants to surpass projects like Dogecoin and Shiba Inu Coin and become a universal cryptocurrency. According to the website "…that begins with undoing the damage done by scammers, schemers, and bad actors".
History
Memecoins are known for having anonymous founders. This is the case with Dogelon Mars as well. According to the official FAQ, the name of the founder is Elon, but it is uncertain whether that's true or not. Although we know that the token launched back in April of 2021, we don't know much other than that.
However, this is a bit of a problem for some investors. That's because anonymous founders and teams can usually scam their users in an easier manner. On the other hand, Dogelon Mars is now on many exchanges, meaning the chances of it being a scam are small.
Tokenomics
Upon launch, there were 1,000,000,000,000,000 ELON tokens. However, the owner decided to send 50% of that to Ethereum's co-founder – Vitalik Buterin. That's a well-known tactic memecoin founders do, so it should not surprise you.
The other 50% of the supply got permanently locked with ETH on Uniswap. This ensures that ELON will always have high liquidity, making it easy to buy and sell. The current supply of ELON is 553 billion.
Price History & ATH
The price history of a token is an important part of its "journey". This gives us an adequate idea of its evaluation – both past and present. It is also a good idea to include this part during your research on a particular token.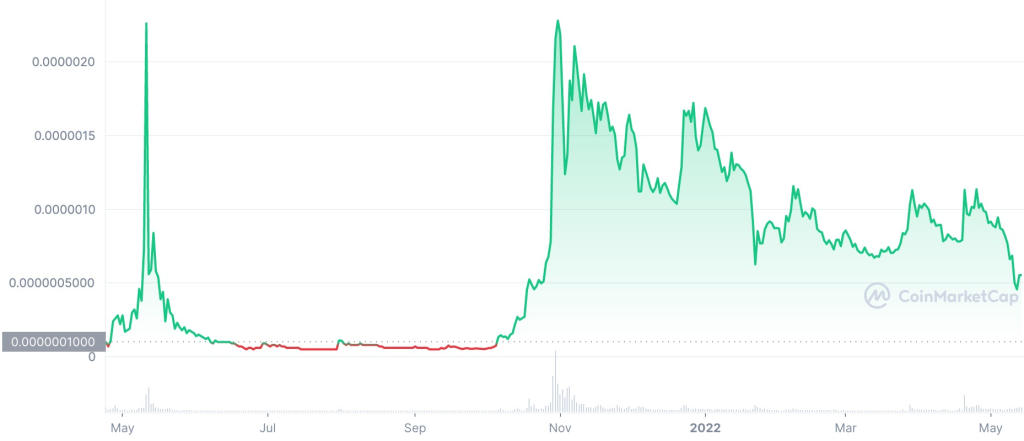 That aside, we will go over ELON's performance ever since its release, up until today, before you decide whether to buy Dogelon or not.
2021
Upon launch back on the 24th of April, 2021, ELON's evaluation was $0.0000001 (six zeroes). It quickly grew in popularity upon release and rose up to $0.000002 (five zeroes). However, just like any other unexpected growth, it quickly lost its value, dropping down to $0.0000001 (six zeroes) yet again.
That proceeded until October when the price was $0.00000005 (seven zeroes), 50% less than the initial price. Yet, by the end of the month, the price of ELON was $0.0000022 (five zeroes). That is also its all-time high.
ELON finished the year with a price evaluation of around $0.0000015 (five zeroes). This is a 15x growth from its initial price.
2022
As we know well, 2022 is a disaster for the crypto market, at least up until mid-May, 2022. We have the crash of LUNA, by more than 99.8%, Bitcoin dropping down under $26.5k, and more.
If you are a crypto enthusiast, you probably realize that this is most likely a temporary thing. Once the military conflicts in Europe are resolved, things will go back to normal.
That aside, we have ELON to talk about. The memecoin began dropping around February. However, it managed to remain stagnant. That is up until the beginning of May.
In April, ELON reached a price evaluation of $0.0000011 (five zeroes).
In May, ELON began dropping, with a current evaluation of $0.0000004 (six zeroes), which is a 5x drop.
We are curious to see how Dogelon Mars will buy into the regeneration of the market this or next year.
Competitors
When looking at a cryptocurrency, it is important to explore its competitors as well. This way you will have a better understanding of what it has to surpass or how it has to innovate. Of course, since this is the memecoin space, the competitors are not as serious.
The thing with memecoins is that you have no clue why they might blow up. In the case of Dogelon Mars, the reason will obviously be its connection with the mix of Dogecoin, Elon Musk, and the Moon/Mars. However, there are some serious competitors such as Dogecoin and Shiba Inu Coin.
This is exactly what we will be exploring below.
Dogecoin
Dogecoin, as we all know, is the first memecoin that was founded back in 2014. Its main purpose is to be a tipping cryptocurrency. For example, imagine you like a post on Reddit or Twitter, which is useful as information, or simply made you laugh.
If the person has a crypto wallet, you can send them some Dogecoin as an appreciation. However, outside of this, there isn't much utility left. This is one thing that Dogecoin owners are pushing for – utility. Because of that, the team behind Dogecoin is now trying to make major changes.
These are going to take Dogecoin outside the realm of memecoins and, hopefully, people will start looking at it as a cryptocurrency with potential.
If we take Dogecoin vs. Dogelon Mars, it is unarguable which of the two has more potential – that's definitely the former.
Shiba Inu Coin
Shiba Inu Coin is the strongest competitor to Dogecoin. It is the first memecoin that is looking to expand its range of operation and add actual utility to the token. They already have a DEX called ShibaSwap. It is becoming a popular choice amongst crypto enthusiasts for token swapping.
Not only that, but the network is looking to expand into the metaverse as well. They already have an NFT collection, which is most likely going to be used within the Shiba Inu metaverse.
With that being said, we actually expect Shiba Inu Coin to surpass Dogecoin within the next 1-2 years. It certainly has more utility and is looking better in terms of roadmap/development.
If we compare Shiba Inu Coin to Dogelon Mars, we once again see that there is no competition. Dogelon is simply too small to compare with these two giants right now.
Others
As you probably know, there are many memecoins that are looking to compete with the aforementioned big "good boys". However, most of there simply die out in the process. The reasoning behind that often boils down to lack of utility.
After all, if we were to take crypto with us into the future, we'd like to be able to use it. That's why, ever since the mass production of memecoins, those that stand out are those that have a purpose. As such, other memecoins are taking note of that and are trying to expand.
In comparison with the rest of the memecoins, Dogelon Mars is actually performing quite well. Although its been around for a little more than a year, it already is making waves. This is also why so many are wondering how to buy Dogelon nowadays.
We are truly interested to see how much it can grow. Can it overcome the current crypto market difficulties or is it going to be forgotten? If it succeeds, can it grow and reach 1 cent? Well, let's discuss that as well.
Can ELON Reach 1 Cent
This is a question that many are interested to learn the answer to. So let's get straight to the point. In order to give objective information, we are going to do some quick maths.
The current price of ELON is around $0.0000004. For ELON to reach 1 cent, it'd have to grow by 100,000x. It currently has a market cap of around $235 million.
If ELON was to reach 1 cent, it'd have a market cap of $23,500,000,000,000, which is $23.5 quadrillion.
This is why, it is nearly out of the realm of possibilities for ELON to reach 1 cent.
However, let us give a possible solution, in which case ELON can reach 1 cent. If the developers start burning supply (permanently removing portion of the supply) this can change things. Because, after all, the less the supply, the more expensive the asset. If Dogelon Mars becomes a project of great utility, then we can see it reaching 1 cent.
Yet, even if all of that happens, we cannot expect it to grow to 1 cent anytime soon. If we were to give a timeframe, it'd take at least 4-5 years for ELON to reach that price point. So don't go out buying Dogelon if your only reasoning is its potential to reach 1 cent.
Is It Worth Investing In ELON
With the current state of the crypto market, every cryptocurrency is on a "discount", including ELON. Discount is where the price is lower that what it "should" be. This is usually decided by those that analyze a cryptocurrency, lookt at its past evaluation, compare it to others, etc.
However, since the whole crypto market is down, this means that even the best projects have low evaluation.
Since ELON is not growing too much at the moment, it is hard to recommend it as another entry to your portfolio. We believe there are many other networks that are currently on discount and deserve to be noticed.
Yet, if you enjoy ELON and the memecoin energy resonates with you, we can not stop you. Because of this, we will show you how to buy Dogelon Mars in our extensive guide below.
How To Buy Dogelon Mars – Summary
Follow these steps to become an owner of ELON:
Find an exchange that has ELON listed.
Create an account.
Fund the account.
Buy USDT.
Exchange USDT for ELON
(Optional) Transfer ELON to an external crypto wallet.
Best Dogelon Crypto Wallets
You now know how to purchase Dogelon Mars, but do you know how to safely store it? As you have probably noticed, the optional step here is to transfer your ELON to an external crypto wallet. That's because crypto exchanges are not entirely safe.
Sometimes the servers overload, sometimes a bug locks you out of your account, and sometimes the exchange senses fake fraudulent activity, which can cause additional trouble. That's why experienced investors prefer transferring their assets from exchanges to an external crypto wallet.
Below you will find a list of the best and easiest to use software crypto wallets:
First on our list is, of course, Metamask. It is a software wallet that allows you to store, send, and receive cryptocurrency. It can be used with any ERC20 token, as well as ETH and other cryptocurrencies.
When you create a new account, you will be given a seed phrase that you can use to restore your account if you ever lose access to it. Metamask also provides a built-in decentralized exchange, so you can easily trade your cryptocurrencies without having to leave the app. In addition, Metamask offers support for multiple accounts, so you can easily manage your finances.
Additionally, with Metamask, users can directly connect to dApps without having to run a full Ethereum node. The wallet's app is available for multiple browsers, including Google Chrome, Brave, and Opera. The extension is also available for mobile devices through the Google Play Store and the App Store.
Exodus is a digital currency wallet that provides a platform where blockchain assets can be exchanged. It is a software wallet that is available for Windows, Linux, and Mac operating systems. Exodus supports over 80 different digital assets, including popular cryptocurrencies such as Bitcoin, Ethereum, Litecoin, as well ass Dogelon.
Exodus also offers a built-in exchange that allows users to trade between different digital assets without having to leave the wallet's interface. In addition, Exodus provides users with a secure way to hold their private keys online. Overall, the wallet is a user-friendly and secure platform for managing blockchain assets.
Trust Wallet is software storage (wallet) for Ethereum and other ERC20 tokens such as Dogelon. It is available for Android and iOS devices. The wallet was created by the team behind Binance, the world's largest cryptocurrency exchange. Trust Wallet is a secure and easy-to-use wallet that allows users to store, send, and receive cryptocurrencies.
The wallet supports multiple languages and provides a variety of features, such as a built-in exchange, price charts, and support for over 20,000 different tokens. Trust Wallet is also integrated with Binance DEX, making it easy to buy, sell, or trade cryptocurrencies directly from the app.
Final Thoughts
Dogelon Mars is definitely an interesting memecoin project. Mostly because there isn't much going around right now, although the developers claim they are developing innovative features. Until we see actual utility within the project, there won't be much we can say about it.
Interestingly enough, it is one of the few memecoins within the top 150 cryptocurrencies by market cap. This is most likely due to its hardcore meme nature, taking both Doge, Elon Musk, and the moon/Mars and integrating them into its name.
We are eager to see what Dogelon Mars holds for its owners in the future. However, we are not too hopeful, although that can change once we see an update. Now that you know how to buy Dogelon Mars, we suggest checking some of our "how to buy" articles.
Suggested Article: "How To Buy Catgirl Coin"