This article was last updated on September 12, 2022
Have you ever wondered what happens when you blend crypto and anime? Well, actually, there are quite a few projects that do that. However, there are only a few that really stand out and are worthy of attention. One of them is the Catgirl coin, which we will be discussing and will show you how to buy.
But before that, we need to let you know we will be using crypto slang. For this reason, if you are new to crypto, we suggest checking out our "Crypto For Beginners" article. It provides insight into the crypto market and establishes a great knowledge foundation.
That aside, Catgirl is unlike any other anime-inspired crypto project out there. It actually has real utility, which makes it an attractive option. Not only that, but the future plans of the project look really promising.
We will be exploring all of that in the sections below, and, of course, we will be going over the tokenomics, history, price analysis, etc., of Catgirl.
Over the past week, the price of Catgirl (CATGIRL) remained around $0.000000000516. The circulation supply is 33 trillion tokens. The market cap went up to $17.48 million.
How To Buy Catgirl – Summary
Follow these steps to become a proud owner of Catgirl:
Create a MetaMask wallet account.
Setup your MetaMask to the Smart Chain mainnet.
Buy BNB.
Swap BNB for CATGIRL.
If you want to see an extensive guide on how to buy Catgirl coin, please see our dedicated section below.
What Is Catgirl Coin & Its Purpose
Although many see Catgirl Coin ($CATGIRL) as a memecoin, it is simply an anime-themed project looking to break the ice between the regular anime fan and the crypto industry. Of course, you do not need to be an anime fan to be interested in the network.
The Catgirl network is a community-driven NFT project featuring the $CATGIRL token. If you head to the main site, you will see it is somewhat of an NFT game, although not complete yet. At the moment, you can collect different Catgirls, and you can buy them outfits, different hairstyles, etc.
Some even call it a "Build-A-Catgirl" simulator, which is not exactly wrong.
However, what is interesting is that once you buy some $CATGIRL coin or buy a specific Catgirl character, you can start staking and farming, which we will explain how you can do.
Staking can happen only by using the $CATGIRL cryptocurrency, which will earn you $PAW if you utilize the $CATGIRL/$BNB pair. $PAW is a non-transferable token that you can use within the ecosystem to buy different NFTs.
As for farming, you will need to purchase a "Rare Season Catgirl" to be able to do so. By choosing how long you wish to farm (locking your asset), you will be earning different rewards.
Another feature here is the "Nekofuse" (Neko = cat in Japanese). This is where you can fuse rare items and catgirls in order to receive one of a higher quality.
Overall, the Catgirl ecosystem is looking to expand and is actually serious about what it does. It is not your average memecoin – not by a mile. The developers are also looking to add an NFT marketplace in the near future, as well as a Raffle feature.
With that being said, let's explore the Tokenomics of $CATGIRL.
Tokenomics
There are three main tokenomics functions, aside from the ones mentioned above, that $CATGIRL holds. These are Reflection, Auto Liquidity, and Marketing Fee.
Reflection's been a feature many tokens have been using to incentivize long-term hold. If you are an owner of $CATGIRL, you will be receiving a 1% reflection, which is an instant share. This means that you and the owners will split 1% of every transaction, allowing you to accumulate the bigger the project gets.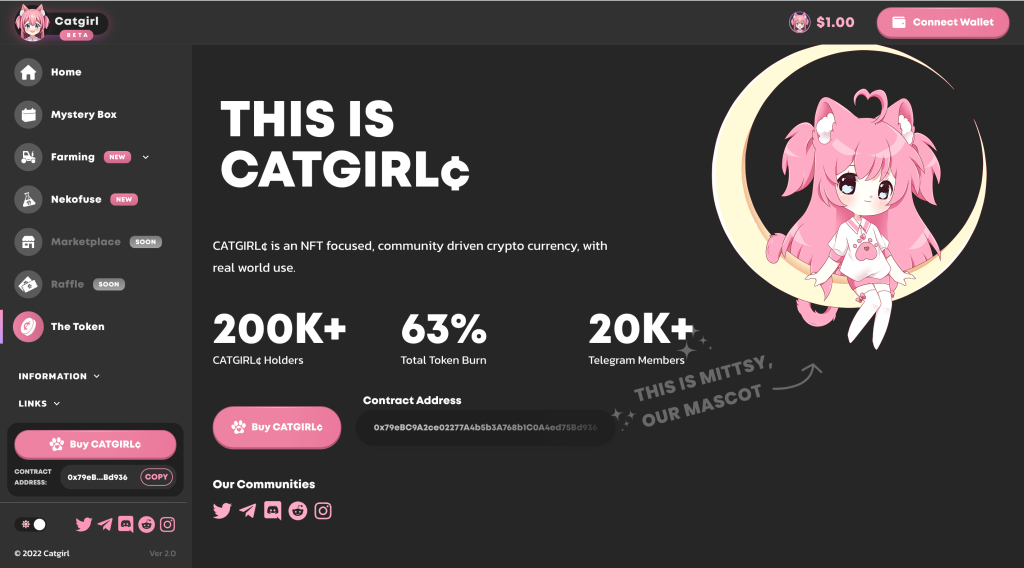 The next one is the 3% Auto Liquidity. This means that 3% of every transaction gets redirected to the liquidity pool and alternated with the farming pool, depending on which one is prioritized.
And finally, 1% of each transaction goes to the marketing & development budget. This ensures that marketing campaigns and future updates can be properly financed. Hopefully, this will mean that people will no longer wonder how hard it is to buy Catgirl coins as well.
Supply
The initial supply of $CATGIRL was 32,638,600 billion. In order to make the token deflationary, the team burned 50% of the total supply. It is also currently gradually burning the other unowned 50%.
History Of Catgirl Coin
The Catgirl cryptocurrency went live in June 2021. It was founded by three or four individuals who have not revealed their identities yet. However, you can check out their official Telegram account by heading to the homepage and scrolling down.
First, we have the team member going under the pseudonym of Ember. Ember is the lead/core developer of the project. He has more than 10 years of experience in the software industry.
The second team member is Chai. They are the creative director of Catgirl. Chai has more than 9 years of experience with graphic design and 4 years of experience in web development.
Catgirl also has a content creator who is also the head of marketing. This includes all the social media and content creation campaigns by the project. The pseudonym of this member is Mocha. They also have experience with character design & creation, as well as technical knowledge about SEO and marketing.
Finally, we have the member Peach. They have more than 8 years of experience in the software development sector. Not much else is known about them, aside from the fact that they are dealing with the back-end of Catgirl.
Price Analysis & ATH
Although $CATGIRL is a fairly new cryptocurrency, it sure went through a lot in terms of price evaluation. This is an important part you should not overlook when wondering whether to buy a cryptocurrency or not. It will give you a realistic look at how the crypto's been performing.
Of course, right now there are too many global conflicts going on that is affecting the crypto market. Yet, you can always compare its performance based on other tokens' movements.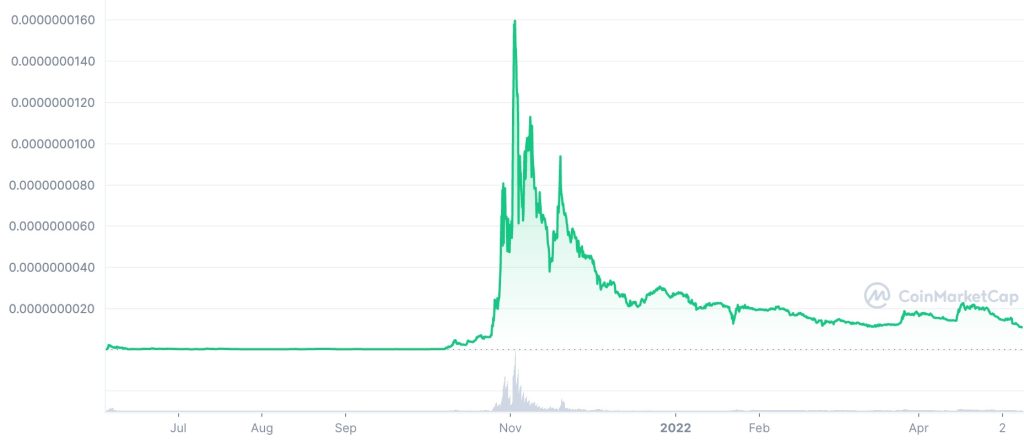 Without further ado, let's see how $CATGIRL's been performing since launch before we get to how to buy Catgirl coin.
2021
For the first 5 months since its launch in June 2021, there was nearly no volatility. That is even though the daily volume was more than $1 million at times. The initial price of $0.000000000695 did not move more than 10% in either direction most of the time.
Things drastically changed at the beginning of November, when the project started trending on social platforms such as Reddit and Twitter. At that point, $CATGIRL reached an ATH price evaluation of $0.000000016.
Communities went wild after the "memecoin". However, that's when people realized it may be a fad, so they immediately started selling. That's when $CATGIRL began its bearish phase and finished the year with an evaluation of $0.0000000026, which is one more zero than the ATH.
2022
As you probably know, the crypto world is currently experiencing a huge dip due to ongoing worldwide conflicts such as the one in Eastern Europe.
Because of this, many tokens are highly affected. This includes $CATGIRL. Ever since the beginning of the year, the token's continued their bearish phase.
The current price of $CATGIRL is around $0.0000000015.
Can Catgirl Reach $1?
The short answer is – nearly impossible. The better question would be – "Can $CATGIRL reach 1 cent"? To which we can produce an analytical answer. If we look at the current price of $0.0000000015, we will need it to go up by 10,000,000x. Yet again, this seems impossible.
However, is it really? Well, with the supply burn in motion and the project's growth, we can see it potentially reaching 1 cent. Yet, of course, it will need to be a hit within the community, enter the top 100 cryptocurrencies by market cap and be full of utility.
It will need to become the biggest anime NFT online game for that to happen. Even though the chances of it happening are quite slim, only time will tell. This naturally brings us to another point – how can it be worth buying Catgirl Coin?
Is It Worth Investing in Catgirl Coin
The Catgirl project is definitely a unique one that has a specific niche of people it targets. That's a great first step. However, how can an ecosystem with such a small target group succeed? Well, the answer is quite easy – marketing.
People are always looking for new crypto-related games, NFTs, etc. This project combines all of these things with the addition of using anime thematic.
If people see the value in the project, it's definitely going to expand, which will naturally lead to bigger adoption rates. At this point, with the "reflection" feature, if you already have invested in $CATGIRL, you will be making passive income. To this, we can add the staking and farming features, which will further increase the accumulation of tokens you will be getting.
This will incentivize owners to hold for a longer period of time.
With that being said, we believe that if the Catgirl project proceeds with its development and expansion, it can definitely grow in evaluation yet again.
Until then, there are probably better projects to invest in, but if you want to be an early adopter, the $CATGIRL is definitely a good investment that can reap great benefits in the long term.
How To Buy Catgirl – Extensive Guide
Time needed: 15 minutes.
In this section, we will focus on how to buy $CATGIRL. Since it is not a big cryptocurrency, it is not offered at major crypto exchanges. The only way to purchase it currently is by swapping it for a more popular token such as USDT, BNB, etc.

Follow the steps below to become an owner of $CATGIRL.
Create a MetaMask wallet account.

Creating a MetaMask wallet account is quick and easy. To get started, visit the official website and click on the green "Get MetaMask" button. From there, you will be prompted to enter your email address and choose a password. Once you have completed these steps, simply follow the prompts to download and install the app. Within minutes, you will have access to your customized wallet account, where you will later store your $CATGIRL assets securely.

Setup your MetaMask to the Smart Chain mainnet.

Now that you have your MetaMask account, you will need to set it up to be compatible with the Binance Smart Chain. To do so, open your MetaMask wallet, click on the cogwheel ("Settings") and click on the "Network" option. In there, select Smart Chain, click "Add Network", and you are ready to go.

Buy BNB.

Select any major cryptocurrency exchange, such as Binance (since BNB is their native token), and buy some BNB. You will have to calculate how much BNB you will need to buy Catgirl coins. Once that's done, transfer your BNB to your MetaMask wallet.

Swap BNB for CATGIRL.

You can then head to Catgirl Swap and select BNB on top and Catgirl on the bottom. Now connect your MetaMask wallet to the DEX. Write down the amount of BNB you wish to convert to CATGIRL, confirm the transaction, and you will be an owner of $CATGIRL. (The website recommends setting slippage to 5%).
Best Wallets To Hold Catgirl
Now that you've become an owner let's explore some external crypto wallets you can keep your $CATGIRL in.
Metamask – One of the most popular Ethereum wallets. It can be easily integrated with Binance Smart Chain and offers high security. It is definitely one of the most secure ones as well, which is a great attraction for users.
Coinbase Wallet – Another great option, especially if you're new to the crypto world. The user interface is very straightforward and easy to use. It is part of the Coinbase ecosystem, meaning it is also quite safe and secure.
Trust Wallet – Trust wallet is a mobile wallet that supports Android and iOS devices. It is very intuitive and user-friendly. In fact, Catgirl suggests using this wallet in combination with MetaMask for storage.
Ledger Nano – One of the most popular hardware wallets on the market. It offers great security, as your private keys are stored offline. You will be able to access your tokens at any given moment without the need for internet. However, unlike the rest of the options, these wallets are not free.
These are just some of the options you have when it comes to storing your $CATGIRL. There are quite a lot of wallets out there, but we believe these ones are the most popular and easy-to-use ones. Of course, they are also perfectly safe.
Final Words
All in all, Catgirl looks like a promising project with a great future ahead in such a specific niche. The game itself looks to be favorable and can potentially draw even more attention upon launch. There are certainly things that the team will need to work on. This includes the expansion of the team, as well as the push to get listed on exchanges.
For now, you can only exchange Catgirl tokens for another cryptocurrency. That makes things inconvenient for the majority of the new crypto enthusiasts. After all, there are so many cryptocurrencies that can be found in other CEXs, that people might as well skip over Catgirl.
Yet, if you can look past that, there's a lot of promise in this NFT-anime-game project. We firmly believe we will be hearing more about it in the future.
Keeping a close eye on Catgirl will definitely be on our list. Until then, you can check some of our other crypto articles, such as the one about Saitama.