This article was last updated on August 15, 2022
Apecoin is the hot new cryptocurrency on the block. In a matter of months, the project has gained mainstream attention and become a favorite among many crypto enthusiasts. This explosive success is mostly thanks to the token's close ties with the highly popular Bored Ape Yacht Club NFT project. The close proximity to the art project gave the crypto the running start it needed to reach astronomical prices in a couple of months. However, many are wondering what Apecoin's future price predictions foresee and whether the crypto can reach the $100 mark.
Over the past week, the price of Apecoin (APE) remained around $6.34. The circulation supply is 306 million tokens. The market cap went up to $1.9 billion.
What Is ApeCoin?
The APE Ecosystem is a decentralized community-building platform that uses an ERC-20 token to empower and incentivize users. APE token holders are responsible for the governance of the APE ecosystem. They can also vote on how funds should be used.
The project draws inspiration from Yuga Labs' Bored Ape Yacht Club. As a part of the APE ecosystem, the Apecoin project aims to build and maintain a fair and inclusive governance system. Through a decentralized governance system, the holders of an APE token can participate in the development of the platform. Yuga Labs also gave the APE Foundation a 1 of 1 NFT to use as it sees fit.
The APE Foundation's Board is composed of individuals who are responsible for overseeing the day-to-day operations of the platform. They are also responsible for overseeing the project management and bookkeeping tasks.
As such, the APE token is the governance token of the APE ecosystem. It allows token holders to participate in the development of the platform and benefit from its open and decentralized nature.
Through APE token, users can also access certain parts of the APE ecosystem that are not currently available to the general public. For third-party developers, the platform's APE coin can be used to create new applications and services.
How Does Apecoin Work?
Apecoin has a number of different uses, giving it great utility. One of its main objectives is to serve as a governance token on the Apecoin network. This means that holders can use their tokens to vote on changes made to the network. As such, they can be directly involved in the development process and become more invested. Such a democratic approach has become very common among crypto projects, allowing holders to have a significant say in the future direction of the development process. However, the strategy also has its shortcomings, as a single entity with control over a significant amount of tokens can have a disproportionate influence on the network.
Meanwhile, the development team will use all proceeds from the sale of APE tokens to fund the project's various future endeavors.
Finally, Apecoin can be used to build various blockchain-integrated applications such as NFT games, play-to-earn games, and Metaverse apps. One such example is Animoca Brands's Benji Bananas, which announced it would be adopting the APE token in its transition to a play-to-earn model.
NFT Integration
As we mentioned, Apecoin is closely tied to the Bored Ape Yacht Club NFT project. However, the crypto is also related to several other NFT series developed and owned by Yuga Labs. These include the less popular, but equally successful Mutant Ape Yacht Club and Bored Ape Kennel Club. Additionally, Yuga labs are now the owners of the most coveted NFT project on the market – CryptoPunks. Their portfolio also includes MeeBits and OTHERSIDE.
Since all of these projects are now under one brand, we can expect increased interconnectivity and integration between the NFT series and the APE cryptocurrency.
Ralated: Best Platforms To Invest In NFTs On
Apecoin Price History And Short-Term Predictions
Apecoin hasn't been on the market for all that long. As such, its price history is much more limited than many other crypto projects. Launched only on 17 March 2022, the token's market presence has been incredibly short-lived thus far. However, in that short period, it has garnered an incredibly wide audience and reached prices that many projects haven't even come close to with years on the market.
APE's all-time high occurred when the crypto was first launched and reached a staggering $39.40. The coin has never reached that price since then and has generally maintained a price in the range between $10 and $15.
Most recently, APE reached a price of $19 and is expected to break the $20 mark soon. While this might be lower than the ATH, it is a very positive sign as the token is currently on an upward trend and these prices are much more sustainable.
Apecoin Price History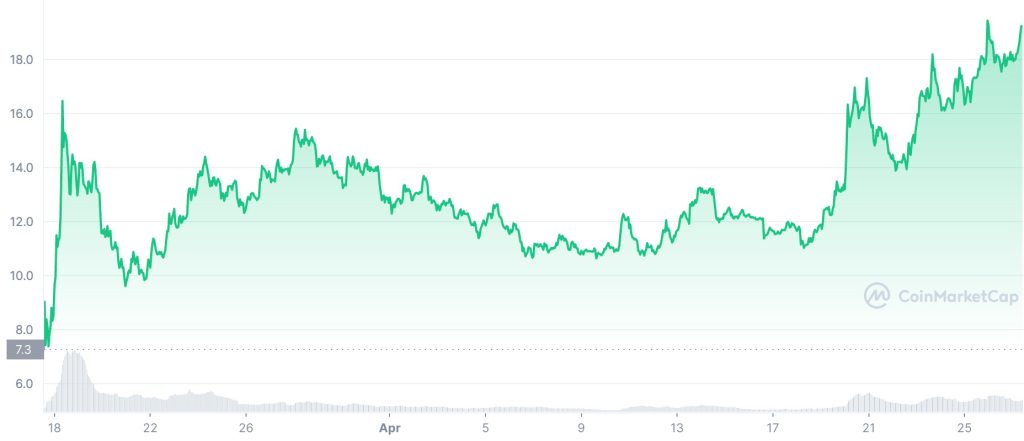 Apecoin Price Predictions 2025, 2030
Apecoin's price has been highly volatile for the short period that it has been on the market. This makes predicting its future prices much more difficult. However, we are able to predict where the price might go and how long it will take for it to get there. Although there is no general consensus, most expert forecasts fall within the same range when it comes to Apecoin's future price. There are even those who believe that Apecoin can reach $100 per token.
Apecoin Price Prediction 2022
Our Apecoin prediction of the remainder of 2022 is quite positive. The crypto has now stabilized in value following a tumultuous launch and is steadily climbing. This, coupled with the various integrations and continued popularity of its associated NFT projects are sure to sustain Apecoin for the remainder of 2022.
Currently, the token is on track to reach $20 within the next couple of weeks at the most. Meanwhile, experts believe that it can reach the $50 mark by the end of the year.
Apecoin Price Prediction 2025
If we were to make a realistic prediction on Apecoin's price for 2025, it would likely be somewhere in the $60 to $50 area. This is because APE's price is likely to plateau following the initial hype of its first year. As such, it would remain around the same price point for an extended period of time as the project develops new features and gains wider utility.
Alternatively, a more positive outlook can see Apecoin reaching the $100 mark by the year 2025. This would be a huge milestone that would cement the crypto's place among the top currencies. Especially given its 1 billion token cap.
Apecoin Price Prediction 2030
If Apecoin were to reach the $100 mark, 2030 seems like a much more realistic year for that to occur in. Provided the current steady price increase continues, APE is undoubtedly going to break $100 per token by 2030, even if it experiences some minor setbacks along the way.
As for a more optimistic forecast, there really is no telling how high Apecoin might go. If NFTs truly become the future of the art world, their potential could be boundless. This would be excellent for Apecoin since the token has positioned itself as the de facto cryptocurrency for NFT enthusiasts and all things related to the sector. Additionally, it has close ties to some of the most prominent projects in the space, giving it a significant edge over any competitor that might arise as time goes by.
| Apecoin Price Forecast | Minimum Price | Average Price | Maximum Price |
| --- | --- | --- | --- |
| 2022 | $5 | $20 | $50 |
| 2023 | $5 | $30 | $100 |
| 2024 | $7 | $50 | $100 |
| 2025 | $10 | $50 | $200 |
| 2026 | $11 | $70 | $200 |
| 2027 | $15 | $70 | $250 |
| 2028 | $15 | $80 | $300 |
| 2029 | $20 | $80 | $300 |
| 2030 | $40 | $100 | $500 |
Is Apecoin (APE) A Good Investment?
Apecoin has a lot going for it right now. For the short period that it has been on the market, the crypto has garnered huge support from many investors. This is in large part thanks to its close association with Yuga Labs and their many NFT projects.
Currently, Apecoin has positioned itself as the premier NFT-related cryptocurrency, promising extensive integration and connectivity with several of the most popular series in the space. These include CryptoPunks, Bored Ape Yacht Club, Mutant Ape Yacht Club, Bored Ape Kennel Club, and more.
Following its explosive release, Apecoin's price has dropped somewhat. However, current prices are much more realistic and sustainable in the long term. They have also been rising steadily and are on track to exceed the ATH in the coming months. Many of the more optimistic Apecoin price predictions also forecast the crypto reaching the $100 mark in the more distant future.
How To Buy Apecoin (APE)
Thanks to the token's massive success and popularity, Apecoin is listed on most major crypto exchanges and online trading platforms. This means that investing in the crypto is not too complex and you won't have to go through a lot of unnecessary steps. Below we have provided an in-depth outline of the general steps you will need to take to invest in Apecoin and where you can find the token.
Choose A Crypto Exchange Platform
The first thing you will need to do is choose a crypto exchange platform that carries Apecoin. Luckily, the token is quite popular and is present on most major platforms like eToro, Binance, Coinbase, Bitstamp, and Kraken.
Create An Account
After you have chosen your trading platform, you will need to create an account if you don't already have one. This process is usually pretty straightforward and usually takes only a couple of minutes. However, you will need to provide personal information such as full name, date of birth, email address, and country of residence.
Verify Your Account
Once you have set up your account, you will also need to verify your identity. This process is a bit lengthier and requires some additional information. Generally, the platform will require that you provide copies of your photo ID, proof of address, and other documents. This is in accordance with Know Your Customer (KYC) laws which aim to prevent fraud.
Deposit Fiat Currency
Next, you will need to deposit funds into your account. You will use these to purchase APE coins. The amount you can deposit will depend on the crypto exchange platform you are using and the number of coins you wish to purchase. Each platform will support different payment methods and have varying minimum requirements.
Buy APE
Once you have supplied your account with sufficient funds, you can purchase your APE coins. Head over to the markets or crypto exchange section of your platform and search for the APE symbol. Once you have found Apecoin, place an order for as many tokens as you would like to buy. Alternatively, you can input how much fiat currency you would like to spend and the system will show you how many tokens that translates to.
(Optional) Move Your Apecoin To An External Wallet
Once you have purchased your Apecoin, you have the option to move it to an external third-party wallet. While you can easily store your cryptos in your exchange profile, a dedicated wallet is much more secure. Most platforms allow you to easily transfer your cryptos by linking a dedicated wallet to your exchange account. Alternatively, you can do it manually by transferring them to your wallet's public address.
Conclusion
No Apecoin price prediction can tell you for certain what the token's value will be in ten years. However, given its popularity and close ties to some of the most popular NFT projects, the project is likely to continue growing. As more NFT series become part of the APE ecosystem, the token's utility and value will only increase. Furthermore, recognizable brand names such as Bored Ape Yacht Club and CyberPunks give Apecoin credibility and make it more trustworthy. Those familiar with the NFT projects will undoubtedly recognize the names and gravitate towards APE.
Expert price predictions are also highly confident and bullish when it comes to APE. Many predict that Apecoin can even reach a price of $100 per token which would be an important milestone for the project.
Apecoin FAQ
Is Apecoin Legit?
Apecoin is a legitimate crypto project with a proven trackrecord of reliability. The network has a credible development team and is operated by a DAO through governance tokens. It also has the support and backing of numerous notable crypto groups and projects.
Is Apecoin On Coinbase?
Yes, Apecoin is available on Coinbase. You can easily buy and sell the token on the Coinbase platform alongside more than 100 other cryptocurrencies. The platform is also currently developing its own NFT marketplace. Registration is quick and free on Coinbase.com
Is Apecoin A Rugpull?
There are no signs that Apecoin might be a rugpull scam. The project has a good trackrecord of rewarding holders and is very transparent with its development process. Furthermore, the network is operated by a Decentralized Autonomous Organization (DAO) which gives token holders significant control.
Does Apecoin Have A Future?
Apecoin is a very promising crypto project that is closely tied to the Bored Ape Yach Club NFT series and its creators. This means that it will continue to grow as NFTs become even more popular. Many expert price predictions are also very confident in Apecoin, with some predicting that the token will reach $100.
Read Next: Best Cryptos To Invest In On A Tight Budget