This article was last updated on June 10, 2022
As we are heading into the metaverse era, many projects are trying to establish themselves as pioneers. However, there are few that actually do that. That's where Metahero comes into play, which we will later show you where and how to buy.
We provide all information in simple bits that are easily digestible. However, if you have no experience in the crypto world, we suggest checking out our crypto beginner's guide. This will give you a great foundation to start off your journey.
Metahero is quite interesting for many reasons which we'll explore in a moment. However, the main one is that the team found a niche to focus on within the metaverse. That is 3D avatar scanning and integrating. To say the least, that description makes it an attractive study.
Below you will find information regarding how Metahero works, its history, price analysis, some speculations, and, of course, where to buy $HERO from and how to store it. Without further ado, let's see what the appeal is all about.
How To Buy Metahero – Summary
Follow these simple steps to become an owner of $HERO.
Find a crypto exchange.
Create an account.
Fund your account.
Purchase USDT.
Exchange USDT for HERO.
(Optional) Transfer HERO to an external crypto wallet.
For an in-depth guide on how to purchase $HERO, please look at our dedicated section below.
What Is Metahero
Metahero is a fairly new crypto project (and cryptocurrency) that promises to revolutionize the way we interact with the metaverse. It uses a highly-realistic 3D technology that scans your body and generates 3D avatars. Furthermore, it can also scan virtual objects from all different areas and industries. This includes games, fashion items, medicine, art pieces, cars, and others.
However, this is only a fraction of what the project is looking to do. These 3D-generated images of your body will be transferred directly into the metaverse. The 3D generated model is used inside the metaverse to represent you.
The technology that is utilized here is provided by Wolf Digital World (WDW), which is the main partner of Metahero. WDW helps capture every single detail of a physical body or item. Following that, they used specialized software to port over the information and render it into a 3D model.
WDW's team consists of professionals in the sector of photographers, graphic designers, engineers, and 3D scanning and modeling specialists. The overall purpose of WDW is to take care of all technical aspects of the project.
Obviously, Metahero pushes the idea of meta-scanning and implementation of models into the metaverse. The team made a pledge to generate over 100,000 avatars per year. That will happen after they install over 12 scanning chambers across the globe.
Another interesting piece of information is that they will be looking to first scan influencers in order to raise awareness around the project. Following that, they will be offering museums to scan art collections and include them in a virtual space.
The native cryptocurrency of the network is $HERO, which will be the only one used within the ecosystem. This includes scanning, licensing, buying and selling NFT, etc.
However, who are the leading team members behind Metahero?
History Of Metahero
Metahero launched back in June of 2021 with a seed-funding of over $10 million, making it one of the biggest startups in the crypto space.
There are four key figures in the team of Metahero. The first one is the founder Robert Gryn, followed by Piotr Harwas, Jeremy Lopez, and Marcin Gracjar.
Gryn has a lot of experience in the technology sector and is a successful manager of many startups. Most notably, Robert has built one of the fastest-growing companies, which grew by over 13,000% in just a couple of months. The way he grows projects is through self-funding and seed-funding, the latter being the main one. He's seen recognition from media companies such as Forbes and Financial Times.
Piotr Harwas is the CEO of WDW, the main partner of Metahero, as we noted earlier. He also has experience with tech startups. Most notably, he is the brain behind the revolutionary 3D scanner Metahero is using.
Jeremy Lopez is the COO of Metahero. Marcin Gracjar is the Head-of-Product at Metahero. Prior to joining the Metahero team, they worked with the CEO Robert Gryn at an anti-fraud tech startup, which later got recognized by the World Economic Forum.
Price Analysis & ATH
It is always important to take note of the performance of a cryptocurrency. Although Metahero's been around for less than a year, it went through some highly volatile moments. This is exactly what we will be going through in this section.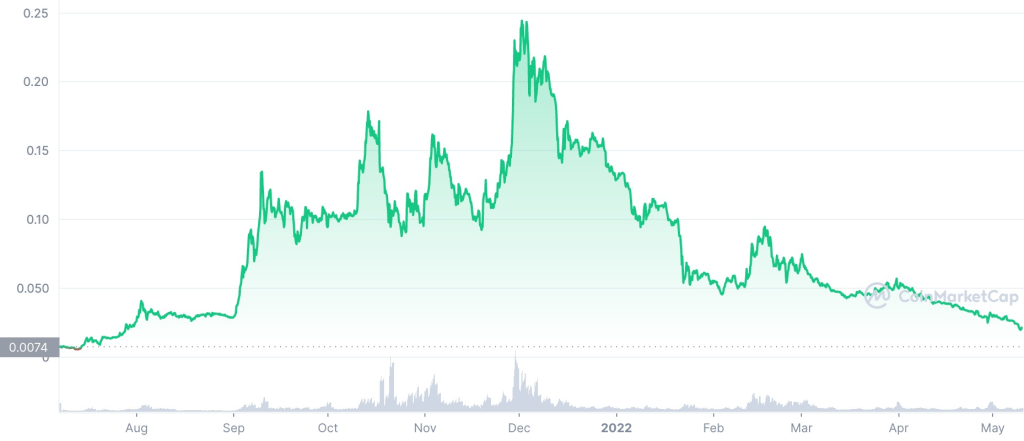 This will give us a better understanding of its current performance. However, we must take into consideration the fact that the whole crypto market is crashing right now. The Eastern-European military conflicts only poured fuel into the problem.
Yet, remaining completely objective here is key, which is exactly what we did.
2021
Metahero is a cryptocurrency that drew a lot of attention back in 2021. Its initial price evaluation was around $0.007 in July. However, in less than a month in August, it increased by 6x, reaching over $0.04.
Yet, that was only the beginning. In September, the price reached $0.13. Every next week was a new all-time high.
In October, the price topped nearly $0.18. November was similar, however, at the end of the month, the price jumped once again.
In December, Metahero reached an all-time high of $0.245, which was a 35x in only five months time frame. However, by the end of the year, the price dropped down to $0.13.
2022
2022 is hell for the crypto market at this moment, no matter how we look at it. There aren't many cryptocurrencies that are outperforming the bearish market. This includes Metahero, which has been on a decline. Because of this it's been constantly dropping in price evaluation.
The current price of Metahero is around $0.022, which is not close to its ATH whatsoever. In fact, it is 10x less than the ATH of $0.245.
However, something many are wondering right now is if $HERO can return its former glory. Can it surpass its ATH and go for a new one over $1? This is exactly what we will be going through in our next section.
Can Metahero Reach $1?
In this section, we will go over the possibility of Metahero reaching $1. We already know that $HERO reached an ATH of $0.245. This is just 4x away from being $1. However, is it going to be as easy to jump up to $1?
Well, there are a couple of things we will need to consider here. Because the project is fairly new, it still hasn't gained too much attention. And even if it did, in the current state of the hardware preparations, there is no way Metahero will blow up as much.
Nevertheless, once people start seeing Metahero actually implementing what they planned, things will change. This is when people's interest will be piqued once again.
Since it is currently at around the 300th place by market cap, there is a lot of room for growth. A 4x is not that significant of a jump for a cryptocurrency this low on the ladder.
In conclusion, we believe that Metahero will reach $1. However, that will only be possible if they strictly follow the plan they've laid out previously. Also, it will most likely take at least 1-2 years for the price to go up to $1. If we are being more conservative it can take as long as 3-4 years.
Does this make Metahero a good buy, and if so, where and how can you buy it?
Is Metahero A Worthy Investment
Metahero is definitely a project that found a unique niche to work in. This lets the project stand out from the rest. After all, let's face it, using our own scanned 3D avatar for the metaverse? That sounds pretty cool.
This is definitely the first selling point of Metahero. Following that is the experience the team working on the project has. They are renowned professionals in their respective fields, ensuring competency during development and execution.
However, although all of this sounds great, there are still ways to go before the project secures its slot in the market. Right now, not much of what's been promised has been brought to life. Although this is excusable due to the fact that the project's been live for less than 12 months, the audience won't buy into the project unless there's proof it can be utilized.
We believe that Metahero will come on top and will be a huge player in the near future. Our speculation is that enthusiasts will be able to use the scanning and integration for suitable games. After all, who wouldn't want to play themselves in an epic adventure role-playing game?
Where To Buy Metahero From – Best Crypto Exchanges For $HERO
Before we show you how to buy Metahero, we will go over the best crypto exchange platforms where you can purchase the asset.
Founded in 2017, Kucoin is a relatively new cryptocurrency exchange. However, it has already established itself as a premier destination for trading digital assets. The exchange offers a wide range of features and benefits that make it appealing to both novice and experienced traders. One of the key reasons for its success is its extremely low trading fees.
Kucoin also offers a unique referral program that allows users to earn rewards for referring others to the platform. In addition, the exchange provides a high level of security, with multiple layers of protection against hacking and fraud. Overall, Kucoin is an excellent choice for those looking for a reliable and user-friendly platform on which to trade cryptocurrencies, including $HERO
Gate.io is a digital asset trading platform that was launched in 2017. The platform provides users with a safe and convenient way to buy, sell, and store digital assets. Gate.io is one of the most popular cryptocurrency exchanges in the world, with over 2 million registered users from over 200 countries.
The platform supports more than 100 cryptocurrencies, including Bitcoin, Ethereum, Litecoin, Ripple, and Metahero. Gate.io also offers a number of unique features, such as margin trading, short selling, and derivatives trading. In addition, the platform provides users with 24/7 customer support and a comprehensive FAQ section.
Bybit is a cryptocurrency derivatives trading platform that offers perpetual contracts with up to 100x leverage. It was founded in March 2018 and is headquartered in Singapore. The company has raised $3 million in seed funding from investors including investment firms such as Bitmain, OKCoin, and Divergence Digital Currency Fund.
Bybit is one of the few cryptocurrency exchanges that offer 24/7 customer support. The platform supports multiple languages, including English, Chinese, Japanese, Korean, and Russian. It also has a user-friendly interface and is suitable for both beginner and experienced traders.
How To Buy Metahero – In-Depth Guide
$HERO is a cryptocurrency that can only be bought by swapping it for another token. In this case, the most common way to purchase $HERO is to exchange it for USDT. In this section, we will be guiding you through each step of the process, including where to buy Metahero from.
Find a crypto exchange that offers $HERO.
Although this sounds like an easy step, there are only a handful of exchanges that offer Metahero. These are KuCoin, Gate.io, Bybit, and some others, however, these are the most credible ones. Other users prefer buying $HERO through PancakeSwap. Nevertheless, we will be showing you the easiest way to obtain $HERO.
Create an account.
Now that you've chosen your crypto exchange, create an account. The signup is the easy part. Before you can make a deposit, you will be required to provide proof of your identity. This can include pictures of your ID, utility bills, etc. Once sent, it can take up to five business days to get approved.
Fund your account.
Once your account's been verified you will be allowed to make deposits. Keep in mind that each exchange has a different minimum deposit amount you have to cover. You can make a deposit by going to the "Deposit" section of said exchange.
Purchase USDT.
Since USDT is the main cryptocurrency that people exchange for HERO, you will need to buy some. Choose the amount you wish to buy and confirm the transaction.
Exchange USDT for HERO.
Search for HERO in the crypto exchange platform and select "Trade/Buy/Swap". Choose USDT as the token you wish to exchange for HERO. Select the amount of USDT. Review how much you HERO you will receive and confirm the transaction.
(Optional) Transfer HERO to an external crypto wallet.
Experienced traders use exchange platforms to purchase tokens. However, right afterward they transfer their assets to external wallets. In the section below, we will be going over the best wallets to hold Metahero.
Best Crypto Wallets To Hold Metahero
Now that you know where to buy Metahero from, we will go over the best crypto wallets to hold your asset in.
There are many different types of crypto wallets on the market, and choosing the right one can be a bit overwhelming. However, it is important to select a wallet that is compatible with the type of currency you are using, in this case, Metahero, and that offers the features and security that you need. Here are some of the best crypto wallets on the market:
MetaMask –
MetaMask is a cryptocurrency wallet that allows you to manage your digital assets. It is simple to use and provides a secure way to store your private keys. With MetaMask, you can easily send and receive cryptocurrency payments. You can also use it to view your balance and transactions. In addition, MetaMask provides a convenient way to buy and sell tokens. Overall, Metamask is a great option for managing your cryptocurrencies.
Exodus –
Exodus is a free, open-source wallet that supports more than 100 different cryptocurrencies. It is also easy to use, making it a great option for beginners. In addition, Exodus provides a built-in exchange so you can easily swap currencies within the wallet.
Mycelium –
Mycelium is one of the most popular wallets available today. And for good reason – it's highly secure, easy to use, and supports a wide range of cryptocurrencies. Furthermore, it's a software application that allows you to store, send, and receive cryptocurrencies. The Mycelium wallet is available for both mobile and desktop devices and provides a user-friendly interface that makes it easy to keep track of your finances.
Final Words
Metahero is a project that makes a lot of promises, and let's be honest, its features are quite exciting. It's never been more fun and exciting to inject yourself into the virtual world. That alone draws a lot of attention to the project.
And yet, things are not going to be as easy even if the project was bound to succeed. There are many expensive installations that need to take place around the world, for the scanning to be optimal and accessible. By accessible, we don't mean finance-wise, but rather location-wise.
For now, the project plans to open 12 of these installations worldwide. However, there will be a need for many more if the team wants it to be globally used.
With so much potential, we strongly believe that the project is worth considering investing in. Especially during the current crypto market crash. After all, millionaires are made during the dip, not the high.
That being said, we're happy to show you how and where to buy Metahero, including where to store it afterward. Hopefully, you now have an idea of what Metahero is and how it works, as well.