This article was last updated on August 15, 2022
Maker is a crypto project that many of you have probably already heard of. It got popular during the 2021 crypto "boom", which brought fresh eyes to the fascinating world of crypto. Since then, the project's community has grown substantially. This led to the interest of the general public as well. The interest we are talking about here includes the curiosity about Maker's price and, more specifically, its price prediction.
This is exactly what we will be focusing on in this article. However, we will also talk about Maker in detail, how to buy Maker, its history, and of course, our Maker price predictions from 2022 to 2030.
Because we will be getting into greater technical details, we recommend checking out our dedicated article for those who are just tapping their feet into the world of crypto.
Over the past week, the price of Maker (MKR) remained around $1,002.19. The circulation supply is 977,631 tokens. The market cap went up to $977 million.
What Is Maker?
Maker, or MKR, is the native and governance token of the MakerDAO, a decentralized organization, and Maker Protocol, a software platform. Both of these projects are part of the same ecosystem, which is based on the Ethereum network, something that is quite common these days.
Both of these platforms allow users to issue and manage their DAI stablecoins. This makes DAI part of the Maker ecosystem, too, just like the MKR cryptocurrency.
The Maker project itself was developed in order to operate DAI. If you are curious about DAI, it is a stablecoin that is community-managed using a "soft-peg" to the US Dollar. The soft-peg method allows DAI to remain more stable than some other stablecoins, such as the UST, which failed to remain pegged, thus destroying the whole Luna network.
The MKR tokens are mainly used as a tool for voting in the organization that manages the DAI tokens. It should be noted that you won't be getting any benefits such as dividends from holding DAI, aside from voting rights. However, these voting rights allow users to affect the development of the Maker Protocol.
All of this means that MKR's price evaluation is directly related to the development of the Maker Ecosystem and the stability of the DAI stablecoin.
If you are into DeFi, then you should know that Maker is one of the first projects that began developing this area of the crypto space.
How Does Maker Work?
Maker is a decentralized autonomous organization on the Ethereum blockchain that creates and backs the DAI stablecoin, as we already know. The Dai stablecoin is an ERC20 token that is pegged to the US dollar and remains stable in price regardless of market fluctuations.
Maker is unique among cryptocurrencies in that it uses collateralized debt positions (CDPs) to stabilize the Dai stablecoin. CDPs are created when a user locks up collateral, such as ETH, in the Maker smart contract. The user can then mint an equivalent amount of Dai, which can be used to trade or make purchases without having to worry about price fluctuations.
The value of the collateral is monitored by the Maker system, and if it falls below a certain value, the CDP is automatically liquidated, and the collateral is sold to repay the debt. As a result, Maker provides a decentralized way to stabilize the value of cryptocurrency while still allowing users to retain ownership of their collateral.
In this sense, there are many similar projects on the market right now, but Maker is one of the most secure and most used ones.
History of Maker
The Maker network is a decentralized platform that runs on the Ethereum blockchain. It was launched in 2015 by a team of developers who were seeking to create a more stable cryptocurrency. The Maker network is unique in that it uses a system of collateralized debt positions (CDPs) to maintain stability. CDPs are essentially loans that are backed by crypto assets.
The value of the loan is pegged to the value of the asset, and if the value of the asset falls, the loan must be repaid. This system provides an incentive for holders of Maker tokens to maintain the value of the token, as they will be directly affected by any price fluctuations.
In addition, the Maker network also has its own decentralized exchange, which allows users to trade Maker tokens for other digital assets. The Maker network is one of the most popular platforms on the Ethereum blockchain and continues to attract new users and developers.
Price History & ATH
In this section, we will be talking about the price history of Maker. This is a very important step before making a price prediction, especially for Maker. That's because there's been a lot of volatility around the token for quite some time now. Knowing the past prices and all-time high (ATH) will give you a better idea of what to expect and if the current evaluation is accurate, underpriced, or overpriced.
We will go over each year and notable price changes over the course of more than 5 years, ever since the release of the Maker token to the public.
It is interesting to see the development of MKR specifically because the price is unusually high for a cryptocurrency that is not part of the top 5 cryptocurrencies by market cap. However, that does not stop it from looking expensive in contrast to cryptocurrencies such as Dogecoin and Shiba Inu Coin. However, enough about that.
Without further ado, let's get right into the price history of MKR before moving to our Maker price predictions.
2017
Maker first launched back on the 30th of January, 2017, with a price evaluation of $24.31. Interestingly enough, there was no initial drop in the price evaluation of MKR, which is a common tactic made by initial investors who quickly sell an asset for profit and then buy the dip.
Instead, MKR just kept going upwards and reached a price of nearly $1400 in less than 12 months' time. However, the price dropped by the 31st of December, when MKR saw an evaluation of $959.
2018
On the first days of the year, the price of MKR went up to $1690. Yet, experienced investors knew this wouldn't hold and began selling, which is when the mini-bear run for MKR began.
In the upcoming months, there was a stagnation in the price of MKR, and it even reached $307 in September. However, the year finished off a bit better, with MKR sitting at around $453.
This is a 50% drop since the previous year's finish and a 75% drop since the $1690 price evaluation 11 months earlier.
2019 & 2020
There wasn't much of a movement in 2019 and 2020.
In 2019, the price remained stagnant throughout the year, for the most part. There was a rare spike up to $750, but the price remained around $500 and $600.
Then in 2020, the price saw its biggest dip since 2017, which was down to $200, once again a 50% drop since the end of 2018.
The year finished off with MKR, valued at $586.
2021
At the beginning of 2021, the price quickly went up to $1600 in less than 30 days. It had another leap in price by February to $2700, which was already a 100x increase in price since the release of the token back in 2017.
In May, MKR reached its all-time high of $6012.46, which is also the current ATH. This was a great feat for a cryptocurrency that's been alive for less than 5 full years. This is also a 250x increase from the initial price of MKR in 2017.
However, a down-trend began for the whole crypto market, which led to a drop in the price of MKR. And a huge one at that. The year finished off with MKR being evaluated at $2337.19.
2022
The price proceeded to fall down in 2022. This is the case up until today, as well. Most altcoins lost more than 60%-70% of their value in about 6-7 months.
Unfortunately, this stands true for Maker as well. The price is still dropping for Maker, going below $2000, then below $1000.
At the time of writing, the price of Maker moves around $690 and $750. The current price is $700.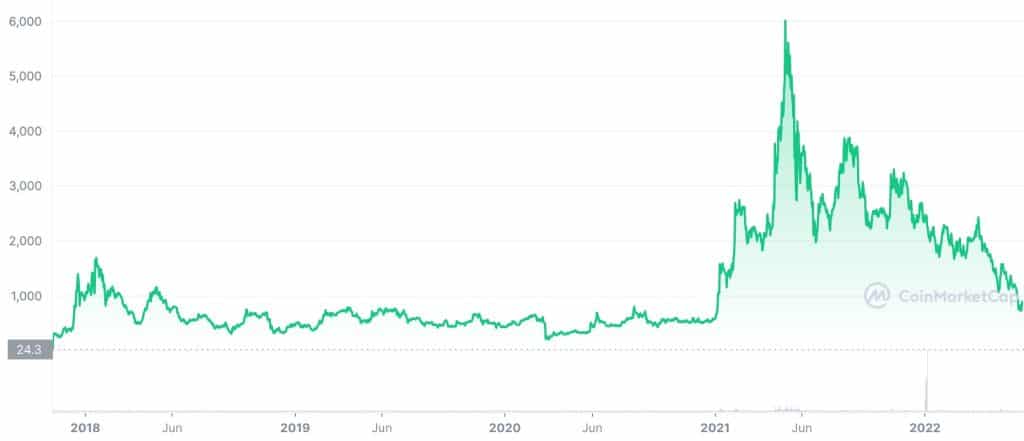 Can Maker Reach $10,000
Maker is a project that comes with a lot of utility. This is what many investors love about it. Owners are optimistic about the development of the network once the market stabilizes. That's why so many believe the price will not only reach $10,000 but go beyond and become one of the top 10 cryptocurrencies by market cap in the future.
However, let's think about it for a moment. The current price of Maker is around $700. This means it will need a 14x increase in order to reach a price evaluation of $10,000. With a current market cap of $680 million, this will result in a new market cap of more than $9.5 billion.
Although this might sound like a lot, it is actually pretty doable. This will definitely place it in the top 20 cryptocurrencies by market cap. The project has everything it needs to keep growing.
This is why we believe Maker will reach $10,000. However, the results will not come anytime soon.
First, we need to see market stabilization. This will happen after the military conflicts in Europe get resolved. Until then, the market will proceed to be chaotic and bearish.
So when is Maker going to reach $10,000? We believe Maker can reach $10,000, but it will take at least 5 more years, or 7 to 8 if we are being conservative.
Related: The Cheapest Cryptos To Invest In
Maker Price Predictions 2022 – 2030
Our Maker price forecast approach will be a conservative one while still remaining realistic. When making a price prediction, we must take into consideration the many different aspects that can affect a token like Maker/MKR and the whole market.
For example, the military conflicts in eastern Europe are the main reason for the crypto market crash. It's not only Maker holders that are wondering whether or not it is time to cash out due to worries of escalation. Because of that, it is going to be the main factor we will be considering.
Following that, we will bring you our own opinion and realistic expectations, which could change depending on the state of the crypto market, but the general idea will be the same in most situations.
Without further ado, let's get right into our Maker price predictions.
2022
For 2022 specifically, there are two things that can affect the MKR price more than anything. These would be the resolution of the conflicts in Europe or their escalation.
If things settle down, we can expect the price of Maker to go up to $1500 or more. Keep in mind that this is a somewhat conservative future price of MKR.
On the other hand, if the conflicts further escalate, we can see an additional drop in the market. This will affect the price of Maker, and it could go for around $400.
2023
Things are similar with 2023, although the biggest factor here will be how adopted cryptocurrencies will be. Not only by people but also by jurisdictions and institutions.
We believe that the token will start regaining its past prime and go up to around $1800 or even $2000.
On the other hand, we could also see a market stagnation, which will lead to MKR being evaluated at around $1400-$1500.
2024
Assuming the market calms down a little, we will see only a slight change in the lower and upper ranges. That would be around a 20% gain or 10% drop in price.
The maximum price will be somewhere between $2200 and $2800, while the minimum should be around $1500.
There isn't much of a change, but we will need to wait and see what the Bitcoin halving will look like. There's a chance it will strongly affect the crypto market.
2025
The further we get away from the current time, the more speculative we will be getting. By 2025, we'd hope to see even more adoption of cryptocurrencies. This will be great for literally every token out there that has utility.
Those without utility will surely disappear, as we can see by viewing historical data.
We can expect Maker price to reach anywhere from $2900 up to $3500 if we are being more optimistic. However, many believe it will have broken the $6000 mark by then, although we do not see how that'd happen.
Nevertheless, we need to make sure to keep the price conservative, which is why we go with $3200~.
2026
2026 will just further prove whether or not the cryptocurrency market will see greater adoption. We certainly believe it will. Because of that, we can expect the price of Maker to be strongly supported at around $3500 while reaching the highest price of $4500.
This is our price prediction for Maker for the first year of the second half of the decade.
2027
The greater the adoption of cryptocurrencies gets, the higher the prices will go. That's because the overall cryptocurrency market cap will proceed to increase. Promising crypto projects such as Maker will definitely follow the example of the mass.
At that point, we can expect to see Maker at around $5000, with a potential to reach its previous all-time high of $6000.
2028
2028 won't be too different than 2027. These years are overall great for long-term investors. Hopefully, financial institutions will also want to work hand-in-hand with the crypto space.
Here, we should already have strong resistance levels at around $5500, while the price can even go as high as $6500.
At this point, we must mention that our conservative approach might not last. That's because, by 2028, we will see enormous cryptocurrency adoption by both jurisdictions and regular citizens. This will highly affect the price of any cryptocurrency, so at this point, we are simply guessing.
2029
We won't be surprised if there is some sort of stagnation at the end of the decade. For this reason, we will speculate that the MKR price will stay at around the $7000 mark.
This would be a great accumulative opportunity because many will start to sell Maker due to a lack of volatility. The following year, we can expect a price rise, so let's see what the beginning of the new decade potentially has in store for us.
2030
For 2030, we will still remain realistic and conservative. However, we will go for a different approach. Because it will be the start of a new decade, the most important thing will be whether or not cryptocurrencies get needlessly regulated or not.
If that happens, the price of most tokens will certainly drop. This will definitely include the current price of Maker at that time.
So how much will Maker be evaluated?
Well, we believe that there will be a maximum value/maximum price level for the average trading price of around $7500 (although many truly believe it will break the $10,000 mark).
However, the price of Maker could also drop big time, and our price prediction might be completely off. At this point, our MKR price prediction will be around $1400, which is just 2x above the current price of Maker. And in the worst-case scenario that Maker is forgotten, you can expect the price to go for only a couple of cents.
Our Opinion On Maker (MKR) Price Predictions
Given the Maker price today, we can make lots of speculations. However, when making a price prediction or looking at one, you must stay completely aware that most of the time, it is completely off.
Although we kept a strong conservative approach with our average forecast price, you should still take this prognosis with a grain of salt.
Maker is certainly a great project with huge potential, which makes us believe that it will survive throughout the years.
Furthermore, stablecoins are becoming increasingly popular, specifically due to the fact that they are somewhat of a safe haven for those looking to store their crypto during times of extreme volatility, similar to what we are seeing right now.
Overall, although we believe Maker will certainly be bullish and we believe in our speculations, we can never be certain.
Is Maker (MKR) A Good Investment?
At this point, you might be wondering – is Maker a profitable investment? Although this is not investment advice, we are willing to share our opinion. However, make sure to do your own research as well.
When looking at the crypto market, you will find a lot of projects who are looking to find solutions to problems that do not exist. Others will create problems in order to present a solution.
And then, there are truly wonderful projects in the crypto and blockchain industry that are going to be the future of the crypto space.
Such a project is Maker. This alone is a good reason to believe it will be a success. We think it is going to be a great investment, especially in the long run. Yet, since anything is possible with the crypto market, things can change in only a couple of months, so make sure to pay attention to Maker news if you decide to invest.
How To Buy Maker (MKR)
Thanks to the token's massive success and popularity, Maker is listed on most major crypto exchanges and online trading platforms. This means that investing in crypto is not too complex, and you won't have to go through a lot of unnecessary steps. Below we have provided an in-depth outline of the general steps you will need to take to invest in Maker and where you can find the token.
Choose A Crypto Exchange Platform
The first thing you will need to do is choose a crypto exchange platform that carries Maker. Luckily, the token is quite popular and is present on most major platforms like eToro, Binance, Coinbase, Bitstamp, and Kraken.
Create An Account
After you have chosen your trading platform, you will need to create an account if you don't already have one. This process is usually pretty straightforward and usually takes only a couple of minutes. However, you will need to provide personal information such as full name, date of birth, email address, and country of residence.
Verify Your Account
Once you have set up your account, you will also need to verify your identity. This process is a bit lengthier and requires some additional information. Generally, the platform will require that you provide copies of your photo ID, proof of address, and other documents. This is in accordance with Know Your Customer (KYC) laws which aim to prevent fraud.
Deposit Fiat Currency
Next, you will need to deposit funds into your account. You will use these to purchase MKR coins. The amount you can deposit will depend on the crypto exchange platform you are using and the number of coins you wish to purchase. Each platform will support different payment methods and have varying minimum requirements.
Buy MKR
Once you have supplied your account with sufficient funds, you can purchase your MKR coins. Head over to the markets or crypto exchange section of your platform and search for the MKR symbol. Once you have found Maker, place an order for as many tokens as you would like to buy. Alternatively, you can input how much fiat currency you would like to spend, and the system will show you how many tokens that translates to.
(Optional) Move Your Maker Tokens To An External Wallet
Once you have purchased your Maker, you have the option to move it to an external third-party wallet. While you can easily store your cryptos in your exchange profile, a dedicated wallet is much more secure. Most platforms allow you to easily transfer your cryptos by linking a dedicated wallet to your exchange account. Alternatively, you can do it manually by transferring them to your wallet's public address.
Conclusion
When looking at the crypto market, a couple of types of projects stand out. Those are the big players – Bitcoin & Ethereum; the memecoins – Dogecoin, Shiba Inu Coin; and projects with purpose – Polkadot, Solana, Monero, and many others. Thankfully, we can easily include Maker in the final category.
Nowadays, as we already mentioned, most projects have no future and potential. Even some within the top 100 by market cap will be gone in a couple of months. That's why finding a niche and purpose when developing a project is so important for its longevity.
This is exactly the reason Maker is going to keep growing – it has no direct competition and has a clear objective.
For this, and many other reasons, we believe Maker is a valuable asset to have. Not only that, but its price evaluation will continue to grow once everything settles down.
We also strongly believe that our price predictions for Maker are mostly accurate. That's due to the conservative and realistic approach we kept throughout the way. Although we are open to the idea that these are the lowest levels it will reach, we believe keeping it simple is more important.
At the end of the day, however, these are only speculations, so keep that in mind.
We can't wait to see what awaits in the future for Maker, which is exactly why we will be keeping you updated.
Read Next: Shiba Inu Price Prediction