Every hero has his own journey. Another great motivational video by Mateusz M. Hero is his 8th motivational video and it's totally amazing. If you want you can check his other videos by checking out his youtube channel. This time the video is narrated by Eric Thomas, Steven Spielberg, Danny Way, Jeremy McGrath.  Enjoy!
Hero
Favorite quotes:
I need you to be who you are supposed to be, because when you are who you are supposed to be you are superhuman.

Just because you failed, doesn't make you a failure. And when life hits you, you gotta keep going, just don't quit.

In order to achieve greatness, you have to go trough a lot of pain.

If you hit the oak tree thousand times in a thousand different spots, what's gonna happen? Absolutely nothing, but if you hit an oak three a thousand times in the exact same spot, you know what's gonna happen?  You gonna bring it down. You gonna do the impossible.

Impossible is just a big word thrown around by small men.

I don't know what it is…. it's inside me but it's a lot of determination, it's a fire that just keeps burning.
If Danny Way (the skater that the video is mainly about) can keep going with a broken leg, then there is no excuse for you not to keep going as well. We all face difficulties the question is how do we react to them. Never let anything stop you! You want something.. GO GET IT!
Suggest Videos To Watch:
Be Phenomenal
Awakening
Never Quit
Fearless
Best 10 Motivational Videos On Youtube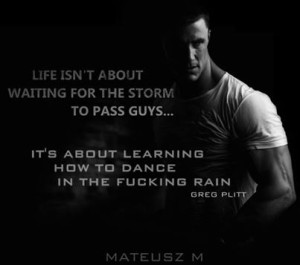 Please don't forget to share the video with your friends and family by clicking on the social share buttons below. Also if you have any questions about the video, feel free to share them in the comments below.