This article was last updated on August 8, 2022
Cryptocurrencies are all the rage lately, and for good reason. They offer a new way of handling finances and can be used to purchase goods and services online. One cryptocurrency that is garnering a lot of attention is Stellar (or Stellar Lumens (XLM)). Here we will explore some of the reasons why Stellar is worth monitoring, as well as our price predictions for it.
If you are interested in the crypto world but are also new to it, we suggest going through our dedicated "Crypto For Beginners" article. You will find all the necessary information to build a strong foundation. And if you already have a strong foundation, you will easily understand all things this article covers.
There's a good chance you've heard about Stellar before. If that's true, then you've also probably heard that it is the future of payments. More specifically, it enables creating, sending, and trading of "digital representations of all forms of money".
The end goal is to have a single network that will incentivize global financial systems to work together on it. Let's see how exactly the Stellar network works.
Over the past week, the price of Stellar (XLM) remained around $0.779. The circulation supply is 560 million tokens. The market cap went up to $3.246 billion.
What Is Stellar & How It Works
Stellar operates in a similar manner to how other decentralized payment systems work. It uses a network of decentralized servers and a ledger that is updated every couple of seconds.
Its main function is to send money from Person A to Person B, but more about that in a second.
The difference between networks such as Bitcoin and Stellar is their consensus protocol.
The Stellar consensus protocol does not require the whole miner network to agree on transactions. Instead, it utilizes the Federated Byzantine Agreement (FBA) algorithm, which allows for faster transaction processing. This is because quorum slices (or a portion of the network) are utilized to approve and validate a transaction.
Nodes in the Stellar network choose other nodes that they trust. Once a transaction is approved by all the nodes within this set, it is considered approved. This shortened procedure makes the Stellar network extremely fast as it can process up to 1,000 network operations/transactions per second.
Stellar's native cryptocurrency is called XLM (Lumens). Let's discuss how Stellar uses XLM.
XLM is utilized in cross-chain transactions and to pay transaction costs. The way this works is quite simple actually. In a few seconds, the protocol changes the fiat money you use into XLM, and then, into the designated by you currency.
By using the Stellar network, one can provide a more comprehensive listing of their inventory for sale or purchase. In addition to being an exchange that tracks ownership on its own books (to ensure no one token takes up too much space), it also acts as a marketplace where users are able to choose and set preferred assets in settlements with each transaction.
This creates greater transparency between parties involved, which is always nice.
Brief History & Founder Of Stellar
Jed McCaleb left his post as head of marketing and engineering at Ripple to found Stellar with co-founder Joyce Kim in 2013. The company's goal is "to become the rails for financial transactions".
This includes the idea for Stellar to have alternate currencies and forms of value coexist with the cryptocurrency world. McCaleb made this comment in September 2020, explaining why he created the project: "The whole original design of Stellar is that you can have fiat currencies and other kinds of forms of value run in parallel with each other and with crypto assets. This is super important to drive this stuff mainstream."
McCaleb wants to make it as easy and seamless for people who want to access their money in other forms, like fiat currencies or even credit cards. He aims at eliminating any friction that might stand between them and that objective.
Jeb is a driven individual who has built an incredible career around his passions. As the CTO of Stellar, he works with this not-for-profit organization/project that strives to unlock economic potential worldwide through making money more fluid and opening markets in places where people are empowered!
Price Analysis & ATH
Another important historical part of a crypto network is its price evaluation over the years. This is exactly what we are going to go through in this section. We will also be using it as a pillar to our Stellar price prediction sector below.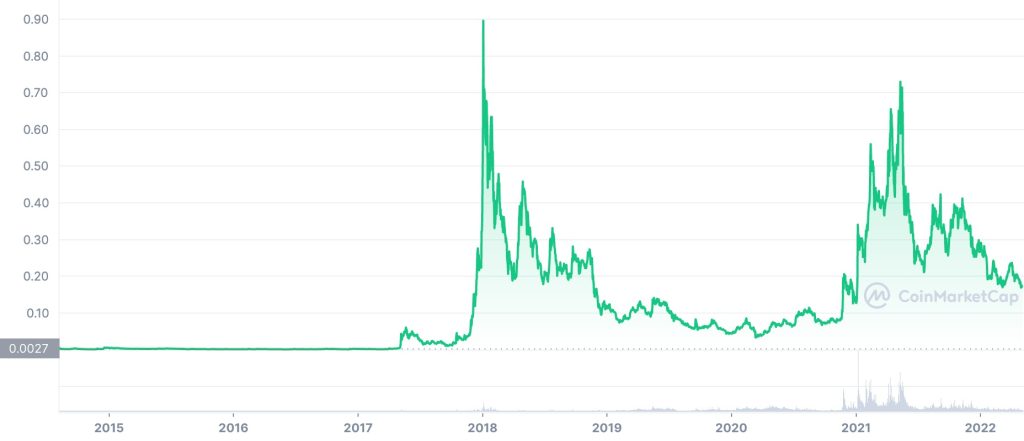 Upon launch in 2014, XLM was evaluated at around $0.0025. There was almost no volatility for the first 3 years after launch.
For the first time, things got interesting in May of 2017. That's when the price of XLM went from $0.005 to $0.06 in less than 3 weeks. This is a 12x increase, or 1100% growth.
However, this was only the beginning. In 2018, on the 3rd of January, XLM hit an all-time high (ATH) of $0.89. Of course, after that it dipped hard, going down to $0.03.
In 2021 XLM once again got popular, similar to most other cryptocurrencies at that time. Yet, the highest it could reach back then was $0.73, which was way off the previous ATH.
Once again, the price dropped and continues to drop into 2022. That's the case with the whole crypto market actually. The current price of XLM is around $0.20.
Although it doesn't look like it right now, we believe in the potential of the network to shine its token yet again. With that being said, we now know what to expect in the upcoming years. You will see how we're going to use the current price for our predictions on Stellar in just a moment.
Can Stellar Reach $1
Even though we are currently experiencing a crash across all markets, assets like Stellar stand out. Not only because of their authenticity, but also their resilience. It is exactly hard times such as these that distinguish real projects from temporary fads.
And because of this people dive and are interested in learning more. At some point, they get curious if a token can reach a certain price point. In this case – can Stellar reach $1?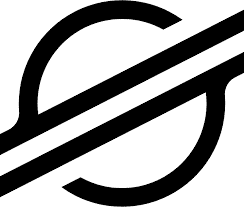 To start off, the price evaluation of Stellar was actually quite close to the goal. XLM's ATH, as we discussed earlier, is $0.89. Of course, this is a price they've reached back at the beginning of 2018.
In short, yes, we do believe XLM will reach a price of $1. More precisely, we believe it will reach that point within 1 year. If we are optimistic, it could be by the end of 2022. However, if we remain conservative and realistic, it can be up until 2023.
This will happen once the crypto market crash ends and a bullish phase begins.
To learn more about that we suggest you go to our next section, which is our price prediction for Stellar for all years until 2030.
Stellar Price Prediction: From 2022 To 2030
And finally, the information you've been waiting for: our 2022 – 2030 Stellar price forecast. Worry not, as we are here to deliver. As always, our predictions will remain conservative and realistic.
However, as we get further down the line, the possibility of our prognosis being a bit off rises. With that in mind, let's get right into it:
2022
We're looking forward to a great year ahead for Stellar due to 2 main reasons. We see scalability and interoperability as key priorities in 2022. If everything goes according to plan, we can expect an increase of more than 4 times from now.
Should things go wrong, our short-term price forecast projects XLM will reach highs near $0.83 before ending up somewhere closer to; maybe even below $0.75 cents USD.
However, if we see a gigantic bull run, it won't be surprising to see XLM surpass $1 although it is a bit unlikely, as we mentioned previously.
2023
Our forecast & analysis shows that by the end of 2023, a token of Stellar will be worth around $1.15 but it could also go lower than this amount and average at about $1.05 per coin throughout the year. This will mostly depend on the adoption rate the crypto sees.
On the other hand, if the current bear run continues or things stagnate, the price can remain at around $0.85. Although many believe it will surely remain at more than $1.
2024
By the end of the 2024 year, XLM should cross an average level to reach $1.27 – which would be a more than 550% increase from its current value.
Additionally, there's potential for it hit maximums as high as $1.43 dollars per coin. That's quite the increase, although many believe the price will go up to $2. However, as always, we like keeping things conservative and realistic in order to avoid overconfidence.
2025
At this point, we can expect Stellar to keep on growing, or at least in the best-case scenario. XLM should be going at an average price of $1.49 and reach a maximum of $1.75.
However, if things for the crypto world are not looking good, we can even see it drop down to $0.52.
2026
With the increasing adoption of the crypto market, Stellar will also definitely benefit. This is mainly because of the focus on quality and utility.
By the end of the year, we can expect XLM to reach $1.82, although it can also drop down to $0.45 if we see any further restrictions on tokens such as Stellar.
2027
By 2027, we'd be one year closer to a Bitcoin halving. At this point, the crypto market will probably begin a bullish phase which will continue until the end of 2028.
Due to that, we can easily see XLM reaching $2 and even getting close to $2.25. Yet, if people decide to accumulate only, we can see the price of XLM dropping down to around $1.
2028
If a Bitcoin halving happens in 2028 other top cryptocurrencies will also rise in price. We do believe Stellar will be one of those projects. For this reason, we can expect XLM to reach around $2.80 up to $3. Although this might be a bit optimistic, it surely is possible.
On the other hand, if the crypto market proceeds to tank we can see it staying down at around $0.9.
2029
At this point, we are nearing the end of the decade. We hope to see the crypto space getting massive adoption and utility.
If that happens, projects like Stellar will zoom throughout space. For this reason, our Stellar price prediction for 2029 is that it will reach around $4.
2030
By 2030, we expect many current projects to remain, while also many new to arise. However, some will fall, naturally. Yet, we believe that Stellar will be one of the networks that remain on top for a long time to come, mostly due to its utility.
As such, we can expect to see an XLM token go for around $4.50, although it can also reach $5 if we are being more optimistic.
On the other hand, if the project fails until then, it is definitely going to be valued at less than $1. But do not worry, as this is highly unlikely as of right now.
Price Prediction Table
| XLM Price Forecast | Minimum Price | Average Price | Maximum Price |
| --- | --- | --- | --- |
| 2022 | $0.51 | $0.75 | $0.83 |
| 2023 | $0.85 | $1.05 | $1.15 |
| 2024 | $0.92 | $1.27 | $1.43 |
| 2025 | $0.52 | $1.49 | $1.75 |
| 2026 | $0.45 | $1.62 | $1.82 |
| 2027 | $0.56 | $1.85 | $2.25 |
| 2028 | $0.91 | $2.36 | $2.8 |
| 2029 | $1.10 | $2.95 | $4.15 |
| 2030 | $1.12 | $3.92 | $4.99 |
Is Investing In Stellar Worth It
Judging by our price prediction for Stellar, we do believe that the network's cryptocurrency is a worthy investment. Projects such as this one are what push the crypto world forward.
The World Bank estimates that the majority of the global population has been left out economically due to expensive money transfers. In this case, the percentage is around 6.5% which means someone sending money home from America could easily lose $6.50 on every $100 they transfer.
Also, the potential for fraud and chargebacks is high when traditional financial channels are used; however, with Stellar's low-cost system it becomes difficult if not impossible because there isn't enough time or resources available.
This is exactly the problem that Stellar solves, which is what makes it so valuable. Crypto networks that solve nothing will surely perish within the next couple of years, but that's not the case with Stellar due to its novelty and utility.
How To Buy Stellar – In-Depth Guide
We will be guiding you through every step of the process to buy XLM. There are only a couple of simple steps. Although there can be some alternations depending on the CEX you use, they should still be somewhat similar. We made sure to keep it simple, clear, and easy to digest:
Find a crypto exchange (CEX) that has XLM listed.
This is the first step you need to take. For beginners, we recommend eToro because it has the most listings and options available when searching for coins or tokens on their system. However, there are other great ones such as Binance, Coinbase, etc. which might better suit your needs if trading frequently.
Create an account.
The initial part of the account creation is quite simple. You just need to provide your email and other data so the account can go live. However, in order to trade, you will need to verify your identity. This needs to be done by providing a photo of your ID and other similar documents.
Deposit funds.
Once your identity's been verified, you will be able to fund your account. To do that, simply go to the deposit section on the platform and choose an amount. Keep in mind that each CEX has different minimum requirements when it comes to deposits.
Choose the amount of XLM you want to buy.
Look up XLM in the search bar of the CEX. Once you click on that you will be shown a screen with two options. One is to select the number of XLM tokens you want to purchase. The other is to select an amount of fiat you wish to exchange for XLM. Following that confirm the transaction and you will be an owner of XLM.
(Optional) Transfer XLM to an external crypto wallet.
Advanced traders do not like keeping their assets in a CEX's integrated wallet. Instead, they transfer them to an external software or hardware wallet. Software wallets can be MetaMask, Exodus, Mycelium, etc. The best hardware wallet companies are Trezor and Ledger.
Closing Words
Stellar is a remarkable network that will definitely be around for a while. Mainly because it is a leader of a whole niche in the face of digital payments. It also presents a great solution to a problem that's been around for quite some time.
The Stellar platform is very easy to use, so once more people adopt it we will be experiencing the snowball effect.
We believe it will keep on growing as a platform and a cryptocurrency. Its market cap will increase over the years, and it will definitely climb up the leaderboard.
That is also why we believe our conservative Stellar price forecast is mostly accurate. If anything, we are probably undervaluing its future price. However, we always keep it conservative and realistic.
Of course, there's always a chance to be completely off with a prediction, but projects like Stellar are less risky than others. That's because there's a whole system supporting them, in addition to the amazing team of developers.
Overall, we will definitely be seeing more from Stellar, which is why we will keep a close eye on its future development.